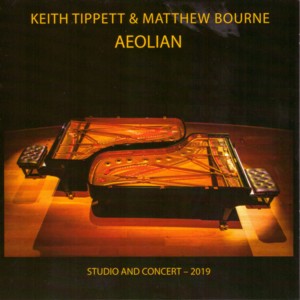 KEITH TIPPETT & MATTHEW BOURNE ~ AEOLIAN
DISCUS 120 (Barcode: 5051078989624) ~ UK ~ Free Jazz / Improvised Music
Recorded: 2019
Released: 2021
---
This is a wonderful 2CD album, which documents the cooperation between the iconic British Jazz pianist / composer / improviser Keith Tippett

Find albums by this artist

(born 1947) and pianist / composer Matthew Bourne

Find albums by this artist

(born 1977), a representative of the new generation of British Jazz. Although separated by a generation gap, the two improvisers felt wonderfully comfortable playing piano duets, which they did during the last three years (2017 – 2019) of Tippett's activity, cut short by his untimely death in 2020.

The first CD presents eight studio recordings by the duo recorded in July 2019, as well as a solo piece by Tippett, which he composed. The second CD presents a live recording by the duo, also from 2019, which sadly was also the last live appearance by Tippett, which comprises of just two lengthy pieces combined into a one continuous stream of music. All the duo performances (studio and live) are credited to both players.

Of course piano duets are hardly surprising as far as Tippett is concerned and his epic recordings with Stan Tracey

Find albums by this artist

in the 1970s and Howard Riley

Find albums by this artist

in the 1990s are absolutely classic examples of the "Art of the Duo" in the piano duet idiom.

Although completely improvised, this music has a superb feeling of melody, even if only created subconsciously by the listener's mind, and the gentle and serene interplays are sublime examples of "less is more", which let the music flow naturally and coherently, both in the case of the studio recordings and perhaps even more so during the concert performance. The mutual respect and telepathic communication these two musicians share is nothing short of astounding.

Our great thanks go to Martin Archer

Find albums by this artist

, the owner of Discus

Find albums on this label

Records, for bringing this superb music out in the open for all of us to enjoy and savor. It would have been unthinkable to let it stay in the vaults, especially in view of the fact that this is Tippett's final statement.

Overall, this is a momentous release, not only as far as British Jazz is concerned, but as a brilliant document of Improvised music, which makes perfect sense, can be listened to repeatedly and is extremely aesthetically pleasing, something that happens very rarely within this genre. Essential listening!
---