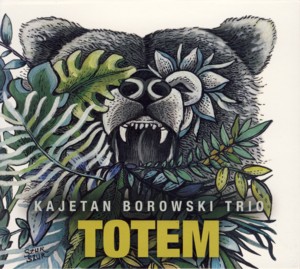 KAJETAN BOROWSKI ~ TOTEM
INETIVE 001 (Barcode: 190394260682) ~ POLAND ~ Jazz
Recorded: 2015
Released: 2016
---
This is the debut album by Polish pianist / composer Kajetan Borowski

Find albums by this artist

, recorded in a classic piano trio setting with bassist Jakub Dworak

Find albums by this artist

and drummer Grzegorz Maslowski

Find albums by this artist

; all three are representatives of the upcoming new generation of Polish Jazz musicians. The album presents eleven original compositions, all by Borowski, and one standard.

The music is firmly positioned within modern melodic mainstream, with elegantly weaved tunes and spirited execution. Borowski displays the typical Polish sensitivities in his ballads, with tendency towards melancholy and lyricism, but on the up tempo numbers, he uses a much more energetic approach, with polyrhythmic Latin predisposition, somewhat similar to Chick Corea

Find albums by this artist

´s Latin / Spanish period. Sometimes I wonder if the only music young Polish pianists listen to is Frederic Chopin

Find albums by this artist

and Chick Corea.

Technically all three players are beyond reproach; Borowski uses powerful chords and delicate glissandos with the same skill and sensitivity, Dworak plays clear and supportive bass lines, including occasional beautiful solo parts and Maslowski drives the music steadily forward, without being overly intrusive, with just occasional overzealousness on the cymbals. Their performance as a trio is very good, with obvious affinity and respect towards each other.

This is a kind of album, which does not attempt to step beyond presenting a solid piece of mainstream Jazz of the best caliber and as such does not include any surprises or explorations beyond the obvious. But within the entire scope of the Jazz idiom such albums are also needed and appreciated, and when they offer music of such quality, as this one, all is well.

Overall this is an excellent debut effort, definitely worthy of praise and encouragement, and obviously promising great things in the future. Therefore it is highly recommended to all Polish Jazz followers and particularly to piano trio lovers. The album was recorded at the RecPublica Studios and offers a superb sound quality.
---