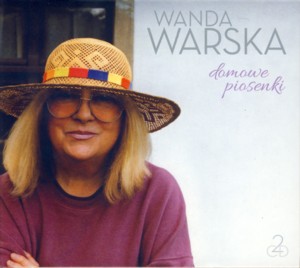 WANDA WARSKA ~ DOMOWE PIOSENKI
POLSKIE RADIO 1984-1985 (Barcode: 5907812249847) ~ POLAND ~ Jazz & Poetry
Recorded: 1964
- 2015
Released: 2016
---
This is a phenomenal collection of radio recordings by the iconic Polish Jazz vocalist Wanda Warska

Find albums by this artist

, the wife of the Godfather of Polish Jazz, pianist / trumpeter / trombonist / composer / arranger / conductor / bandleader Andrzej Kurylewicz

Find albums by this artist

. In retrospect, considering the criminally limited recorded legacy by Warska, in spite of her status and immense talent, she was perhaps overshadowed by the colossal figure of her husband and perhaps decided to support his career rather than develop her own. Whatever the reasons might have been, there is almost nothing available on the Polish music market that reflects her incredible artistry and this collection is a most welcome, albeit much belated, tribute to this Wonder Women!

This 2CD album presents thirty seven stunning songs, all of which have two things in common: Warska sings them all and she wrote the lyrics to all of them, unveiling a part of her creative nature less know to the public. As if this wasn´t impressive enough, she also composed twenty four of these songs. Those she did not composed are mostly by Brazilian composers: Antonio Carlos Jobim

Find albums by this artist

, Vinicius de Moraes

Find albums by this artist

, Dorival Caymmi

Find albums by this artist

and Joao Gilberto

Find albums by this artist

, the Godfathers of Bossa Nova and modern Brazilian music (total nine songs). Warska started her career as a lyricist in 1964, when she translated into Polish the a/m Bossa Nova songs, which swept the Polish scene as they did all over the world at the time. The remaining four songs come from other sources and interestingly none of the songs on this album were composed by Kurylewicz.

These songs were recorded during a number of recording sessions as follows: one song was recorded in 1963, five songs were recorded in 1964, seven songs were recorded in 1966, one song was recorded in 1971 and seven songs were recorded in 1972; on all of the above twenty one songs Warska is accompanied by various ensembles led by Kurylewicz, lineups of which are unknown. Thirteen songs were recorded in 2002 and one in 2004 with a quartet which included Kurylewicz on piano, guitarist Marek Napiorkowski

Find albums by this artist

, bassist Pawel Panta

Find albums by this artist

and drummer Cezary Konrad

Find albums by this artist

. Two more songs were recorded in 2015 (after the passing of Kurylewicz in 2007) with a trio featuring pianist Andrzej Jagodzinski

Find albums by this artist

, Napiorkowski and Panta.

The songs composed by Warska are all pearls of the Polish Jazz & Poetry idiom, full of that heartbreaking lyricism, Slavic melancholy and beautiful melodies, that only Poles are capable of weaving. Warska´s interpretations of these songs are absolutely divine, although she was always the absolute Queen of Cool, playing around with her beautiful voice and using cleverly the idiosyncrasies of the Polish language and diction, but eschewing theatrics and drama. This perfect minimalism is her trademark, and sets her apart from all other Polish Jazz vocalists, regardless of their age.

In truth this album is a wonderful opportunity to compare Warska to her alter ego, the legendary Polish Jazz vocalist Ewa Demarczyk

Find albums by this artist

, who also enjoys an iconic status based mostly on a very limited number of recordings done decades ago. Demarczyk and Warska are the two most important figures of the Polish Jazz vocal artistry, and they both remain unchallenged so far. Demarczyk, the absolute Drama Queen, is the devilish face of Polish Jazz vocals whereas Warska is the absolute angelic face of it. They compliment each other perfectly, like Yin & Yang and a prospect of seeing them both on one stage and / or the possibility of them making an album together gives me the Goosebumps.

As usual in such cases, the lyrical content of this album is sadly limited to those listeners who understand the Polish language, however I´m pretty sure that the beauty and the power of these songs is much stronger than language barriers and all sensitive listeners anywhere on this planet should be able to enjoy this album immensely.

As far as Polish Cultural Heritage is concerned, this is an absolute National Treasure, which deserves to be cherished and studied by young musicians in Poland, first and foremost by vocalists of course. For us, the humble admirers, this is an essential addition to our record collections, no questions asked. We thank you from the bottom of our hearts!
---