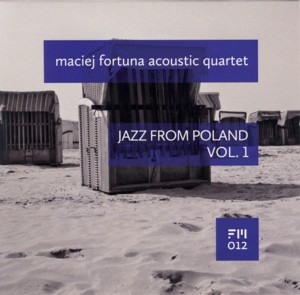 MACIEJ FORTUNA ~ JAZZ FROM POLAND VOL. 1
FM 012 (Barcode: 5903240365050) ~ POLAND ~ Jazz
Recorded: 2013
Released: 2015
---
This is a beautiful album by leading Polish Jazz trumpeter Maciej Fortuna

Find albums by this artist

, recorded with his acoustic quartet, which also includes pianist Krzysztof Dys

Find albums by this artist

, bassist Jakub Mielcarek

Find albums by this artist

and drummer Przemyslaw Jarosz

Find albums by this artist

. Since the album is intended as a tribute to the great Polish Jazz composers, it presents seven compositions by prominent Polish Jazz figures, such as Krzysztof Komeda

Find albums by this artist

(two compositions), Zbigniew Seifert

Find albums by this artist

(three compositions), Janusz Muniak

Find albums by this artist

(one composition) and Maciej Sikala

Find albums by this artist

(also one composition); these four representing three generations of post-WWII modern Polish Jazz musicians / composers.

In the liner notes of this album Fortuna mentions the dilemma, which many Polish Jazz musicians struggle with, whether to play Jazz according to the well defined formula originally defined by the American Jazz precursors or play original music with different influences and tendencies, like those characteristic of Polish Jazz for example. This album is his answer, clearly pointing towards the originality and individual search rather than repeated replication of past formulae. Although Fortuna and his cohorts treat the compositions with a great amount of freedom and individuality, the spirit of this wonderful music, its intrinsic Polish melancholy and lyricism, are well preserved and brought from the past to contemporary musical environment.

As usual on all albums by Fortuna, his trumpet performances are the focal point of the music. His virtuosic and almost superhuman abilities keep surprising his listeners with each new release and one wonders how far can he still travel from here. The three musicians playing with Fortuna on this album are also incredible by any standard. The young Dys emerges in the last couple of years as one of the leading contenders for the narrow pedestal of top Polish Jazz pianists and the rhythm section does a phenomenal job to keep up with these two "crazy" Geniuses, keeping the music swinging and pulsating, even in its most free form manifestations.

Almost on every album by Fortuna that I reviewed over the years I couldn´t stop myself from drawing some parallels between Fortuna and Tomasz Stanko

Find albums by this artist

. On this album these parallels are stronger and more obvious that ever before, especially in view of the fact that Stanko played in Komeda´s ensembles and is subconsciously always associated with his music. Hearing Fortuna playing Komeda immediately brings Stanko to mind, and with deep satisfaction I can say that Fortuna bears the torch without any inferiority complexes.

This is a second edition of this album, which was initially released as a limited private edition and is now released on the open market, which of course means that it should be immediately grabbed by every Polish Jazz fan, as albums of this quality do not pop in the open very often.
---