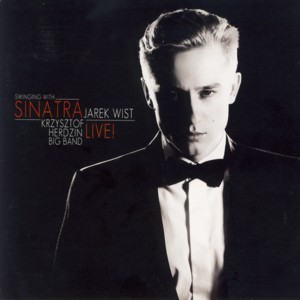 JAREK WIST / KRZYSZTOF HERDZIN BIG BAND ~ SWINGING WITH SINATRA
DUX 0090 (Barcode: 5902547000909) ~ POLAND ~ Jazz
Recorded: 2011
Released: 2013
---
This is a live recording of a concert dedicated, as the title suggests, to the songs which were part of the classic repertoire of Frank Sinatra

Find albums by this artist

. The songs are performed by young Polish vocalist Jarek Wist

Find albums by this artist

, who is accompanied by a Big Band led and conducted by distinguished veteran pianist / composer / arranger Krzysztof Herdzin

Find albums by this artist

. The album includes fourteen tracks, twelve of which are standards from the Sinatra repertoire and two are original compositions by Herdzin, one used as an intro and the other as a showcase to present the members of the Big Band at mid-time.

Sinatra, who was often dismissed by narrow-minded Jazz buffs as a crooner and mere entertainer, was in fact one of the greatest American Jazz singers and had more swing in his toes alone than most others, certainly more than his critics. His very individual and unique treatments of the great American Songbook are the absolute Holy Grail of American Jazz vocals and remain untouched by time, incomparable, undefeated and uncontested. Especially notable are his superb recordings with Big Bands, like the Count Basie

Find albums by this artist

Orchestra and several others, arranged and conducted by such luminaries as Nelson Riddle

Find albums by this artist

, Neal Hefti

Find albums by this artist

or Quincy Jones

Find albums by this artist

. All these recordings are quintessential, pure and unadulterated Jazz classics. It is simply impossible to listen to this album without comparing it, for example, to the classic "Sinatra At The Sands

Find albums with this title

", recorded with the Count Basie Orchestra conducted by Quincy Jones.

Unfortunately the comparison doesn´t leave much space to remain positive about this album, which is a great pity, since the intentions were probably quite honorable and the participants are all excellent musicians. I can understand Herdzin willing to step into the shoes of the great Big Band arrangers of the past and indeed his part as the arranger is probably the best ingredient of the entire package. However even these arrangements sound rather pale and lack the zest and the kick which characterize the original Sinatra recordings. I have no idea if the Big Band had ample opportunity to rehearse and considering the economic realities of a Big Band, they most probably did not, which is immediately apparent. As already stated, the participating musicians, who include pianist Piotr Wrombel

Find albums by this artist

, guitarist Marek Napiorkowski

Find albums by this artist

, bassist Robert Kubiszyn

Find albums by this artist

and drummer Pawel Dobrowolski

Find albums by this artist

and thirteen additional brass and reed players, are all able and talented musicians, but obviously have limited opportunities to show their skills within the Big Band collective when accompanying a lead singer.

Wist is a rather ordinary singer, completely lacking the theatrical and humorous sides of Sinatra´s stage persona. His interpretations of these classic standards are simply dull and often imperfect technically. And of course there is the dreaded Polish accent and pronunciation, which is perhaps acceptable on the local market but completely unbearable to an English speaker. It´s a pity the producers of this album did not consider the additional step of getting the lyrics translated into Polish; this might have saved the day, al least to some extent. Even the audience´s applause present at the hall where this music was recorded sounds hesitant and weary and the sound quality of the recording suffers from uneven volume, poor separation and overall muddy resonance.

In retrospect this was a lost case before it even begun. Tackling the enormity of Sinatra´s talent, heritage and status is not a very wise decision and such things are usually best left alone. The old saying: "a smart man knows how to get out of trouble but the wise man knows how to avoid trouble in the first place" is very appropriate here. During the concert Herdzin complains about the difficulty of his multi-talented persona (he not only arranged the songs, composed two pieces and conducted the band, but also plays the piano on one track and sings on another). Perhaps there is a lesson here for him, since after all he is an extremely talented person. On the other hand those who don´t do don´t make mistakes, and he surely does a lot.
---