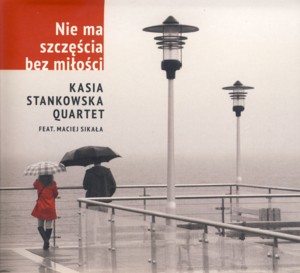 KASIA STANKOWSKA ~ NIE MA SZCZESCIA BEZ MILOSCI
ARTMONIA 5902768831009 (Barcode: 5902768831009) ~ POLAND ~ Jazz
Recorded: 2013
Released: 2013
---
Polish pianist / composer Wladyslaw Szpilman

Find albums by this artist

was one of the great icons of the country´s musical scene for many decades. He achieved popularity already as a very young and exceptional pianist in the 1930s. During the Nazi occupation of Poland during WW II Szpilman, who was a Jew, was hiding in Warsaw and managed to survive the Holocaust, helped by his Polish friends and even a German officer, who was a music connoisseur. Szpilman´s WW II fortunes were the subject of his memoirs and after his death in 2000 it was the subject of Roman Polanski

Find albums by this artist

´s movie "The Pianist", which won three Oscars and worldwide acceptance as a cinematic masterpiece.

The lesser know facts about Szpilman, certainly outside of Poland, are his numerous activities in post-war years as the director of Music Department of the Polish Radio, creator of the Sopot Song Contest, which runs now consecutively for over fifty years, composer of many Classical works, concert pianist touring worldwide and additionally also author of hundreds of songs, many of which were extremely popular and eventually became evergreens.

This album by Polish Jazz vocalist Kasia Stankowska

Find albums by this artist

takes twelve of Szpilman´s popular songs and presents them in Jazzed up versions. She is supported by a trio with pianist Lukasz Perek

Find albums by this artist

, who is also responsible for the arrangements, bassist Jakub Olejnik

Find albums by this artist

and drummer Przemyslaw Jarosz

Find albums by this artist

. Saxophonist Maciej Sikala

Find albums by this artist

is the guest star and contributes some spectacular solos on several of the songs.

Stankowska has a warm and expressive voice, which suits these songs ideally. The piano trio accompanying her does a perfect job, creating a nostalgic atmosphere of a smoky cabaret set sometime in the late 1950s / early 1960s, which I still recall from my childhood, when I was often smuggled under heavy long coat into these sinful establishments, getting my first-hand Jazz experiences. The piano parts are brilliantly arranged and perfectly executed and the rhythm section keeps the music steady and firm, with delicate dynamics and intelligent accents, always at the right moments. Sikala adds great ornamentation, breaking the nostalgic and relaxed mood with his delicate yet forceful solos, which shine like white pearls on a black dress. Szpilman´s status allowed him to select superb lyrics to his songs, written by famous Polish poets and lyricist, that are classy, coherent and elegant, and Stankowska makes the best of that asset, which deserves a special mention.

All in all this is a most pleasant and rewarding musical experience, a classic example of "less is more". Keeping a low profile and avoiding excessive experimentation proves exactly right in this case. Beautifully simple, but not simplistic, beautifully melodic, but nor trivial, beautifully lyrical, but not banal…just beautiful. Diana Krall

Find albums by this artist

, eat you hat!
---