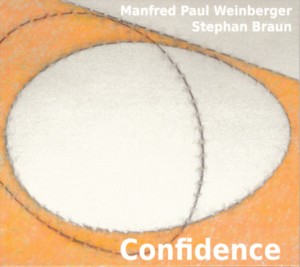 MANFRED PAUL WEINBERGER / STEPHAN BRAUN ~ CONFIDENCE
ATS 0979 (Barcode: 9005216009794) ~ AUSTRIA ~ Jazz
Recorded: 2021
Released: 2022
---
This is an album by the duo comprising of Austrian trumpeter / composer Manfred Paul Weinberger

Find albums by this artist

and German cellist / composer Stephan Braun

Find albums by this artist

. The album presents twelve tracks, ten of which are original compositions (seven by Weinberger and three by Braun) and two are Jazz standards (one by Thelonious Monk

Find albums by this artist

and another by Kenny Wheeler

Find albums by this artist

).

The music is a classic "Art of the Duo" setting, which manages to overcome the obvious limitations and despite the minimalist format creates rich and diverse musical vistas. The fact that Braun applies many different techniques to his 5-string cello, making it sound like several different instruments, as well as his use of some electronics and percussion, add up to a much more versatile effect that expected. As a result, the music flows and changes continuously, keeping the listener on his toes.

Weinberger is an excellent trumpeter and this minimalist setting does not limit him at all, enabling him to utilize his wonderfully lyrical tone and brilliant technique.

Overall, this is a very pleasant and highly interesting album, which takes the listener to visit and experience a wide range of moods and tonalities, and despite the unusual instrumentation is able to sound familiar and absorbing. For Jazz listeners, who like the duo setting, this is especially a worthwhile new experience, but all Jazz listeners should find here something to their liking. Warmly recommended!
---