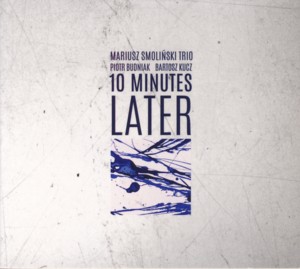 MARIUSZ SMOLINSKI ~ 10 MINUTES LATER
NOT ON LABEL ~ POLAND ~ Jazz-Rock Fusion
Recorded: 2019
Released: 2020
---
This is the debut album by young Polish keyboardist / composer Mariusz Smolinski

Find albums by this artist

recorded in a trio format with bassist Bartosz Kucz

Find albums by this artist

and drummer Piotr Budniak

Find albums by this artist

. The album presents eight original compositions, all by Smolinski.

The music is all strictly melody based mainstream Jazz / Fusion, with a distinct retro feel reminiscent of Chick Corea

Find albums by this artist

1970s / 1980s recordings, constantly moving on the border between Jazz and Fusion. Smolinski plays both acoustic piano and the Fender Rhodes (or synthesizer), which naturally swing the mood between the Jazz and Fusion idioms. Kucz plays a distinct Fusion oriented electric bass whereas Budniak´s drumming is more Jazz oriented, which again emphasizes the stylistic dichotomy of the album.

The compositions are all solid and well structured, the ballads being typically drenched in Polish melancholy and for me stronger than the up-tempo numbers, with have less distinct character. But all in all the music is certainly very well crafted and offers a pleasant experience to a wide range of listeners.

The performances are all first class, as usual with the young and well schooled Polish Jazz musicians. Smolinski has what it takes to play a wide range of stylistic nuances, sounding confident and sparkling. Kucz gets a lot of exposure and soloing opportunities, and his bass work is truly inspiring, with a wonderful fretless sound and fluidity. His contributions on this album are an essential part of the entire result and for Fusion bass lovers are probably the focus of interest. Budniak, who is a frequent participant in on the Polish Jazz / Fusion recording scene, is as precise and inspiring as always.

Overall this is an excellent debut effort, which shows potential and professionalism of the leader in this early stage of his career. Smolinski needs to find his personal voice and style in time, which will surely happen very quickly based on the rapid development displayed by the young generation of Polish Jazz players, and I´m already curious to hear his sophomore effort.
---