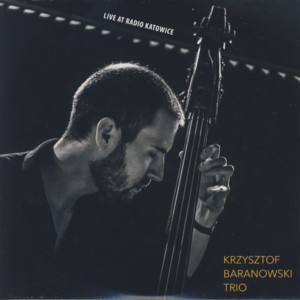 KRZYSZTOF BARANOWSKI ~ LIVE AT RADIO KATOWICE
PRK 0140 ~ POLAND ~ Jazz
Recorded: 2020
Released: 2020
---
This is the debut album by Polish Jazz guitarist / bassist Krzysztof Baranowski

Find albums by this artist

recorded live in a classic piano trio format with pianist Mateusz Kaszuba

Find albums by this artist

and drummer Patryk Dobosz

Find albums by this artist

. The album presents eight pieces, six of which are original compositions by Baranowski and two are standards.

Although Baranowski´s primary instrument is the guitar, the trio won a prize at one of the Polish Jazz festivals and led to recording of this album, which finds him playing the bass on his debut recording, rather than guitar.

The music is all well within modern mainstream Jazz boundaries, based on solid and highly lyrical melodies, typical of Polish Jazz. Baranowski certainly has a lot to offer as a composer and his compositions are well rounded and beautifully crafted. A few shades and touches of Frederic Chopin

Find albums by this artist

´s toolbox made me smile.

The performance is less spectacular, but certainly up to the excellent standard expected from the young Polish Jazz musicians, I have not heard Kaszuba on any recordings nor have I listened to him live, so my knowledge about him is very limited, but he certainly is an able player, obviously in the early days of his career, showing promising potential and already a remarkable skill. Dobosz on the other hand is already a highly experienced performer, with a bunch of recordings under his arm, which is immediately evident. Baranowski, although a novice as far as recording is concerned, shows an excellent feel and skill in his role as a bassist, which of course immediately raises the interest in his guitar playing.

Overall this is an impressive debut album, which again stresses the fact that young Polish Jazz players pop up on the scene like mushrooms after the rain, with a continuous stream of talent and creativity, which of course is a wonderful blessing.
---