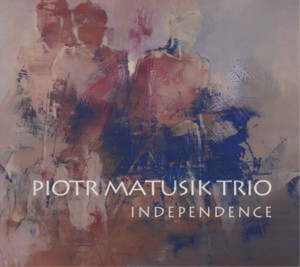 PIOTR MATUSIK ~ INDEPENDENCE
SOLITON 688 (Barcode: 5901571096889) ~ POLAND ~ Jazz
Recorded: 2019
Released: 2020
---
This is the second album by young Polish Jazz pianist / composer Piotr Matusik

Find albums by this artist

recorded in a piano trio setting with bassist Alan Wykpisz

Find albums by this artist

and drummer Patryk Dobosz

Find albums by this artist

. The album presents nine original compositions, all by Matusik.

Matusik debuted about five years earlier with an album dedicated to the music of Chick Corea

Find albums by this artist

, which I sternly criticized at the time. In the meantime his career developed well as a member of the quartet led by violinist Bartosz Dworak

Find albums by this artist

and participation in occasional other recordings and his music matured over time, as this album, which should be really considered as his artistic debut, clearly proves.

His compositions offer melody based themes, which are laced wit the typical Polish Jazz melancholy and the execution is open enough to allow space for extended improvisations by all three musicians. The intimate piano trio format is perfect to expose the excellent interplay between the musicians, which is the strongest virtue of this album.

As usual in a piano trio setting, Matusik is the prime soloist, performing lengthy piano parts, superbly supported by the rhythm section. It is however Wykpisz, who offers a truly refined musicianship on this album, with wonderful solo parts and sublimely sensitive accompaniment behind the piano. Dobosz is also excellent, keeping the time precisely and inventively, using a versatile arsenal of percussive trickery.

Overall this is an ambitious effort, which shows a clear step forward in Matusik´s development. Jazz trio piano enthusiasts should find this album an educational experience as far as the role of the rhythm section is concerned. Definitely worth investigation!
---