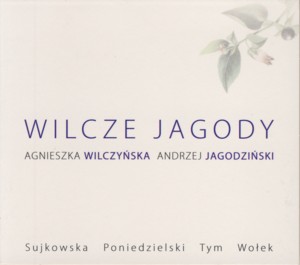 AGNIESZKA WILCZYNSKA / ANDRZEJ JAGODZINSKI ~ WILCZE JAGODY
NOT ON LABEL (Barcode: 5907222840030) ~ POLAND ~ Jazz & Poetry
Recorded: 2019
Released: 2019
---
This is a beautiful Jazz & Poetry album by the Polish duo comprising of vocalist Agnieszka Wilczynska

Find albums by this artist

and veteran pianist / composer Andrzej Jagodzinski

Find albums by this artist

. The album presents eleven original songs composed by Jagodzinski and featuring lyrics by contemporary Polish poets / lyricists: Andrzej Poniedzielski

Find albums by this artist

, Stanislaw Tym

Find albums by this artist

, Wieslawa Sujkowska

Find albums by this artist

and Jan Wolek

Find albums by this artist

. Wilczynska contributed the lyrics to one of the songs. Jagodzinski in addition to playing the piano add also some accordion parts.

The music is an archetypal example of what the essence of Polish Jazz represents, in its profound lyricism, melancholy and harmonies deeply rooted in Polish Folklore, which are unmistakably idiosyncratic. Jagodzinski´s compositions, which are influenced and inspired by his insightful love and understanding of the music of Frederic Chopin

Find albums by this artist

, are heartbreakingly melodic and deeply wistful, and when combined with the intelligent and thoughtful lyrics they simply become irresistible. For listeners interested in exploring his exceptional status and his contribution to the Polish Jazz idiom, I recommend the wonderful "Muzyka Polska

Find albums with this title

" album, which is a classic.

But clearly the amalgam of this superb music and the marvelous vocal performances by Wilczynska is what makes this album even more special. She is undoubtedly an ideal Jazz & Poetry singer, with a perfect diction that allows each and every syllable to be heard precisely, a sublime theatrical expressionism which allows sensitive delivery of the underlying emotions and last but not least has a wonderful voice and feel of the music, which is clearly evident when she sings the lyrics or improvises using vocalese. Wilczynska cleverly avoids any unnecessary theatrical extravagance, delivering the lyrics with charming minimalism, clearly achieving the "less is more" effect, which ideally suits the concept of this album. I wish all the young Polish Jazz vocalists simply listened to this album, which is a classic example of how things should be done in that field.

During my last visit in Poland, just a few weeks ago and before the corona virus took control of our lives, I had an opportunity to hear Wilczynska, Jagodzinski and other Polish Jazz musicians deliver an unforgettable performance in a small club in the outskirts of Warsaw. The venue was absolutely packed with fans, which wouldn´t let the musicians off the stage after two solid hours of brilliant music. I hope all of you, my Friends, are well and I do hope to see you all again soon. May the Jazz Force be with you!
---