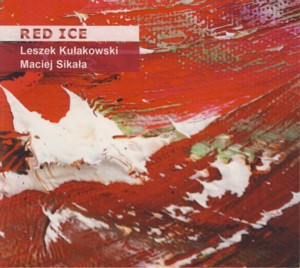 KULAKOWSKI / SIKALA ~ RED ICE
SOLITON 662 (Barcode: 5901571096629) ~ POLAND ~ Jazz
Recorded: 2019
Released: 2019
---
This is the debut album by a duo of two veteran Polish Jazz musicians, pianist / composer Leszek Kulakowski

Find albums by this artist

and saxophonist Maciej Sikala

Find albums by this artist

. The album presents eleven original compositions, all by Kulakowski.

Kulakowski is a versatile and highly imaginative composer and his music always reflects the Polish Jazz lyricism at its best, as echoed by his extended recording legacy. But on this excellent recording his composition are padded and extended by the improvised contribution of Sikala, who turns out to be an ideal partner in this intimate encounter, adding not only his soprano saxophone virtuosity but also his own layer of melancholy and lyricism. The combined result is deeply moving and instantly becomes another exquisite instance of my favorite "Art of the Duo" idiom.

The music is beautifully melodic, and yet offers rich and often quite complex chord structures, which never stop to amaze with their ingenuity, but remain wonderfully coherent. As such it is an ideal vehicle for the improvised contributions, which are natural extensions of the basic melody lines. Sikala does an absolutely amazing work here, not only as a player / improviser, but more importantly as a co-composer of sorts, since his improvisations often add an additional melody line of its own,

The intimate atmosphere of the duo, which in these circumstances bridges between the classic Jazz idiom and the minimalism of chamber Classical Music, becomes completely full and perfectly rounded, proudly standing on its own. I dare to suggest that this music performed by a larger lineup would have probably lost much of its charm in comparison to these intimate versions.

On this album Kulakowski leaves most of the soloing to Sikala, but the few soli he does play here make me smile, longing for a long awaited solo piano album by the Maestro.

Overall this is a brilliant Jazz album, which offers highly rewarding listening experience on many different levels; lovers of Jazz duo albums, fans of both of these excellent musicians, Polish Jazz enthusiasts and Jazz connoisseurs all over the world, all should be equally satisfied with what this album has to offer. Wholeheartedly recommended!
---