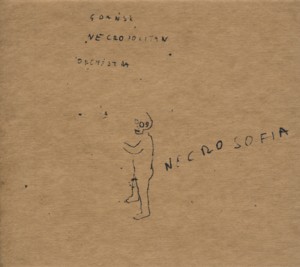 GDANSK NECROPOLITAN ORCHESTRA ~ NECROSOFIA
NOT ON LABEL ~ POLAND ~ Avant-Garde Jazz
Recorded: 2018
Released: 2019
---
This is a spectacular debut album by Polish Jazz duo behind the Gdansk Necropolitan Orchestra

Find albums by this artist

moniker: trumpeter / composer Dawid Lipka

Find albums by this artist

and bassist / composer Maciej Sadowski

Find albums by this artist

. The album presents eleven compositions / improvisations not credited specifically and therefore assumed as co-created by the duo members. The albums artwork is very secretive about the date and place of the recording, which offers an absolutely amazing sound quality and a unique ambience of a large empty room / hall resonating and creating wonderful overtones.

Although seemingly limited by the scope of just two instruments, the music offers wonderful richness and depth of musical ideas, amalgamating elements of Classical Baroque Music, Avant-Garde Jazz, Chamber experiments and Ambient explorations, all perfectly matched together forming a marvelously striking and condensed kaleidoscope of sounds which penetrates the listener´s soul directly. It matches perfectly the two other albums released in 2019, which involve Sadowski and Lipka ("Murmurs

Find albums with this title

" and "Jazz Dla Zwierzat

Find albums by this artist

"), both being among the most interesting Polish Jazz albums released in that year. This album completes an astounding "triptych" of rare quality and inventiveness.

Lipka´s trumpet pyrotechnics fondly remind the work of lamented Andrzej Przybielski

Find albums by this artist

, both on the sound and emotional levels. Sadowski´s arco work and heartbreaking melancholy are absolutely dazzling. Together (and with the help of the hall´s ambience and some electronics) they are able to create an impressive wall of sound effect during the crescendo moments, but their intimacy is no less effective during the pianissimo passages. In fact the music they manage to create together is simply unparalleled by anything else that happened on the Polish scene in 2019.

Overall this is nothing short of a masterpiece, an amazing piece of music, which should be definitely listened to together with the above mentioned two albums of the "triptych". If the phrase "future of music" has any meaning at all, this is as good a sample of it as one can hear here and now. I know, I know… prophesy has been given to the fools.
---