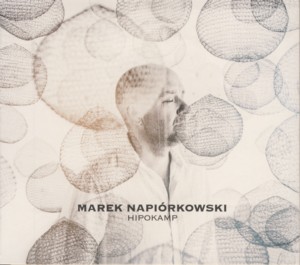 MAREK NAPIORKOWSKI ~ HIPOKAMP
AGORA 5903111493905 (Barcode: 5903111493905) ~ POLAND ~ Jazz-Rock Fusion
Recorded: 2019
Released: 2019
---
This is an album by Polish guitarist / composer Marek Napiorkowski

Find albums by this artist

, recorded in a quartet setting with keyboardist Jan Smoczynski

Find albums by this artist

, drummer Pawel Dobrowolski

Find albums by this artist

and Brazilian percussionist Luis Ribeiro

Find albums by this artist

. Veteran saxophonist Adam Pieronczyk

Find albums by this artist

guests on two tracks. The album presents nine tracks, six of which are original compositions by Napiorkowski, two are arrangements of songs by David Bowie

Find albums by this artist

and one is by the great Brazilian composer Egberto Gismonti

Find albums by this artist

.

It is enormously satisfying to see an Artist achieving a status of stability and security, where his authority / ability / talent are not repeatedly questioned and where he does not have to prove anything any more, all this as a result of consistent hard work and good judgment as to the consecutive steps of his vocation. Napiorkowski is a prime example of such an Artist, enjoying a carefully weaved career built step by step, always surrounded by first class musicians and never resting comfortably on his laurels.

This album is full of surprises, starting with the very unusual lineup: basically a duo of guitar and keyboards supported by a rhythmic backbone. The wonderfully multi-talented Smoczynski is able to display the entire palette of his keyboard wizardry, including the beautiful Hammond Organ parts and of course supplying the bass lines in this bass-less setting. Dobrowolski is right on the money with his dynamic and beautifully tasteful drumming and Ribeiro ornaments the proceedings with stylish percussion parts. Pieronczyk does not disappoint either, and his elegant lyrical saxophone parts suit the music ideally.

The original compositions by Napiorkowski offer wonderfully coherent melody lines, which are expanded into non-trivial improvisations, at times touching upon imaginative Free Form sections. The two Bowie songs receive unique arrangements, taking the original melody contents into unexpected territory. The Gismonti piece, although very brief, expresses Napiorkowski´s admiration of the Brazilian Genius and fellow guitarist. The entire album offers a wonderful flow and continuity, which turns it into a superb listening experience.

Overall this is another excellent step in Napiorkowski´s well paved career, finding him searching and exploring, which of course is commendable. For the lack of a better definition, this is a beautiful example of intelligent and innovative Fusion, which points out that the idiom is far from being stale, when in great hands. Respect Maestro!
---