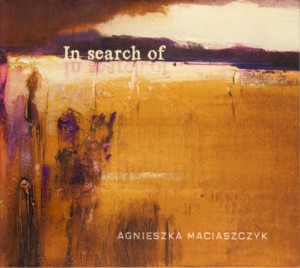 AGNIESZKA MACIASZCZYK ~ IN SEARCH OF
PRIVATE EDITION ~ POLAND ~ Jazz
Recorded: 2018
Released: 2018
---
This is the debut album by young Polish Jazz vocalist Agnieszka Maciaszczyk

Find albums by this artist

recorded with a quartet comprising of pianist Michal Ciesielski

Find albums by this artist

, saxophonist Szymon Lukowski

Find albums by this artist

, bassist Michal Bak

Find albums by this artist

and drummer Przemyslaw Jarosz

Find albums by this artist

- all four prominent upcoming representatives of the young Polish Jazz scene. The album presents seven original compositions, all co-credited to Maciaszczyk and Ciesielski, although in a short online conversation I conducted with her Maciaszczyk credited the entire crew for arranging and co-creating the music, except the one song, which she composed and wrote the English lyrics for and one other track which was entirely composed by Ciesielski. All the six compositions, other than the song, feature wordless vocalese by Maciaszczyk. The music was recorded at the excellent Monochrom Studio and engineered by Ignacy Gruszecki

Find albums by this artist

, with usual as always superb sound quality.

The music and the entire artistic concept of this album is quite unusual and unique, since as already stated, the focus here is on wordless vocalese rather than on songs, which use lyrics (with one exception). As I have already stated repeatedly, most young Polish Jazz vocalist make the tragic mistake of insisting to sing in English, which in most cases ends up in a fiasco. I also often say that it would have been better if they used wordless vocalese instead. I have no idea if Maciaszczyk ever read any of my record reviews and took my advice or arrived at this conclusion on her own, but the result is exactly what I had in mind and now I can use this album as an example.

The vocalist uses her voice like an instrument and becomes an integral part of the resulting quintet, something great Jazz vocalist, including the sublime Polish vocalist Urszula Dudziak

Find albums by this artist

, pioneered already five decades ago. I was a bit surprised that Maciaszczyk decided to use only acoustic vocals and chose not to use electronic enhancements, but that is of course entirely her own decision and a future option. The courage to choose the path less travelled by is of course admirable.

The four instrumentalists all perform superbly here, as expected. Ciesielski builds up most of the melodic and harmonic layer, accompanying the vocalist amicably and with great sensitivity. Lukowski is less dominant but adds some hair-rising parts, especially those played on the bass clarinet. The rhythm section is also absolutely first class, handling the often devilishly tricky odd rhythmic patterns and quirky tempi changes with flair and elegance. The ensemble performance is absolutely second to none.

Overall this is a stunning debut, full of intelligent music and superb performances by these excellent musicians. The music might be a tad difficult at first hearing, but open minded listeners are sure to fall in love with this music at some point, as it offers a new perspective on vocal Jazz in contemporary young European Jazz, an event that happens only very rarely. Wholeheartedly recommended to all serious vocal Jazz connoisseurs and thanks to the talented minds behind this music! Chapeau bas!
---