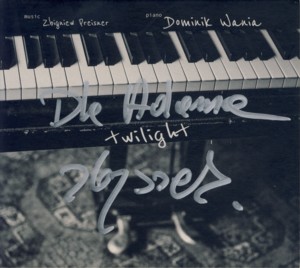 ZBIGNIEW PREISNER / DOMINIK WANIA ~ TWILIGHT
UNIVERSAL MUSIC POLSKA 602577477812 (Barcode: 602577477812) ~ POLAND ~ Special Products
Recorded: 2018
Released: 2019
---
This is a sensational album which presents the music by celebrated Polish composer Zbigniew Preisner

Find albums by this artist

, known as one of the most important cinematic contemporary music Masters, performed by virtuoso Polish pianist Dominik Wania

Find albums by this artist

, who in the last decade conquered the Polish Jazz piano scene without much competition. The nine solo piano pieces composed by Preisner and interpreted by Wania present on this album are a magical window into the souls of both of these great Artists.

Last year, during the 2018 Haifa Film Festival, which celebrated the music of Preisner, I had the wonderful opportunity to spend many hours in his company, which provided ample opportunity to discuss music, philosophy, and life in general, while exchanging anecdotes and enjoying food together. Preisner the person turned out to be every bit as fascinating as his music.

Preisner´s music is always characterized by several basic qualities, which are intrinsically embedded into the fabric of the sonic visions he creates. They are melody, simplicity and melancholy. Anybody familiar with Preisner´s music is obviously aware of the fact that his music offers some of the most beautiful melodies to appear in cinematic music, which have an universal appeal capturing millions of music (and obviously cinema) lovers the world over. But his music also eschews complexity and unnecessary ornamentation, leaving the ground first and foremost to the melody. He is absolutely right when he states that no amount of sophistication and extrovert decoration is able to do anything, when the melody is lacking, and when the melody is great, not much more is needed. As to the melancholy, or even more precisely the typical "Polish Melancholy", which his music almost epitomizes, it is simply something that comes completely naturally to him, as it in fact happened to all great Polish composes since Frederic Chopin

Find albums by this artist

.

Dominik Wania is undoubtedly a great virtuoso, but his virtuosity is only one of his many qualities, which distinguish him from most of the other excellent piano players on the Polish scene. The most important of his qualities is his ability to find his very own adaptation of any kind of music he sets forward to perform. His Jazz recordings over the years prove his incredible stylistic diversity and sensitivity, finding him often in diametrically different musical surroundings, but there is not even one case which finds him unable to deal with the music at hand and that in the most spectacular way imaginable.

This album offers best of the two worlds: the wonderful compositions by Preisner with the incredible interpretation of these compositions by Wania. The pieces are all beautifully melodic and simple and melancholic, true pearls of Preisner´s creative powers. Wania´s fingertips take these melodies into his own world, adding his very own, often very subtle but always very evocative interpretation, which floats like another layer over the basic melody. The overall result is delicate, often minimalist, reflective and heartfelt, with the music achieving a state of a mantra lingering in the air. I recall when Preisner told me about this project when we met and I assured him that he could have not found a more suitable piano Master than Wania to uplift his compositions to another emotional / spiritual level, this of course before I heard the music. After hearing the music it became obvious that his (and mine) instincts were just right on and the result turned out to be simply outstanding.

I don't like to use "big" words in vain, but this album puts two Geniuses together, and thanks to Higher Powers the combined qualities simply came together like a dream. I can hardly imagine any true music connoisseur staying impartial to this music, which I have played often since I first received it, finding it always striking directly at my heart in days of low and high. I hope many more people can enjoy the same level of musical bliss!
---