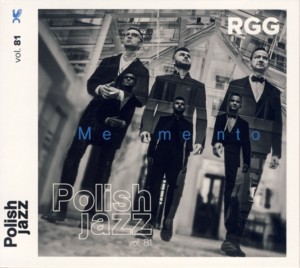 RGG ~ MEMENTO (POLISH JAZZ VOL.81)
WARBER MUSIC POLAND 190295475932 (Barcode: 190295475932) ~ POLAND ~ Jazz
Recorded: 2018
Released: 2019
---
This is the eleventh album by Polish Jazz classic piano trio RGG

Find albums by this artist

, which consists of pianist Lukasz Ojdana

Find albums by this artist

, bassist Maciej Garbowski

Find albums by this artist

and drummer Krzysztof Gradziuk

Find albums by this artist

. The album presents twelve relatively short pieces, with Ojdana and Garbowski each contributing four original compositions, one is a standard by Ornette Coleman

Find albums by this artist

, two are compositions by contemporary Polish Classical Music composer Henryk Gorecki

Find albums by this artist

and one is by Polish Liturgical Music composer Jacek Galuszka

Find albums by this artist

. The album was recorded at the famed Studio Tokarnia and engineered by Jan Smoczynski

Find albums by this artist

, with the expected wonderful sound quality.

As someone who followed RGG since their inception, listened and reviewed their every album to date, heard them performing numerous times and even enjoyed their company in person, I am probably the least objective person to write about them again, and yet I feel that this somewhat intimate acquaintance with their music gives me a kind of insight that a casual listener might lack. RGG is not only one of the best European piano trios, which by itself is a momentous achievement, but it also is the most dynamic and ever developing musical unit, which is honestly a pretty rare phenomenon. Piano trios in particular have a tendency to keep a certain level of stability, even the best of them, once they reach a certain level of proficiency, which is definitely something RGG eschew. Each and every one of the eleven albums the trio was involved in presents a separate, often radically different musical universe, which is truly amazing.

What is the secret behind this behavioral pattern? Well, in my opinion it is the fact that RGG consists of three diametrically different personalities that are miraculously able to combine their individualisms into a new amalgam that changes constantly like a chameleonic microcosm, captured on each of their albums. Ojdana the romantic warrior, Garbowski the intellectual philosopher and lover of harmony and Avant-Garde as one and Gradziuk the rebellious free spirit with Zen ability to focus have together everything needed to produce an infinite number of intricate meshes, which are "deadly" effective.

"Memento" is perhaps the most introvert album by RGG ever. It is deeply melodic and lyrical spanning a large rainbow of influences and reflections and full of poetic and emotional, even spiritual moods. Clearly reflecting Jazz and Classical Music influences, the music is always very subtly and carefully balanced and aesthetically coherent. In fact it is also perhaps the most accessible album the trio ever recorded, although the full appreciation of the depth and richness of the music requires a trained and sensitive ear.

RGG are the epitome of Polish / European Jazz at its best and their music is the soundtrack of European Culture, which seeks to unite the known and explore the unknown aspects of human tradition, spirituality and ingenuity. This album stands alone perfectly as a symbol of modern Jazz, but it is also a piece of a puzzle, which stands for something much more substantial. Therefore if this is someone´s first glimpse of the RGG miraculous universe, it will hopefully prompt to explore their older recordings and keep the eyes (ears) open for future ones, and this is barely the beginning of a beautiful journey.

The fact that this album was released as part of the "Polish Jazz" series (see below) is not a distinction for RGG, but rather a distinction for the series.
---
Side Note
---
The iconic "Polish Jazz" series of recordings, originally released between 1965 and 1989 by the Polish state owned record company Polskie Nagrania

Find albums on this label

, which used the Muza

Find albums on this label

label as its moniker, consists of seventy six LP albums. It presents the history of Polish Jazz recordings during that period, which includes some of the most important Polish / European modern Jazz milestones and reflects the extraordinary development of Jazz music behind the Iron Curtain. It is one of the most important historic documents of Polish Music and of course Polish Culture in general.

The series had an eminent logo designed by Roslaw Szaybo and the albums were numbered sequentially from Vol.1 to Vol.76 accordingly. The album's artwork was wonderfully stylish and modernist, featuring the brilliant photographs and characteristic design by the legendary Polish Artist Marek Karewicz.

Stylistically the series presented all Jazz genres, from Traditional Jazz to Avant-Garde / Free Jazz, which was extraordinarily liberal considering the cultural censorship imposed by the Socialist Regime. It suffered from some inconsistency, as far as the musical quality and aesthetics were concerned, as well as the internal "politics" of the Polish Jazz scene at the time, but in retrospect it achieved a spectacular overall result, unparalleled as far as consistently documenting a national Jazz scene is concerned.

After the Polskie Nagrania catalogue was bought by Warner Music Poland

Find albums on this label

, the new owner started a reissue process of the Polish Jazz series, carefully remastered, repackaged and including extensive liner notes, which keeps the artwork as close to the original design as possible. So far forty two volumes of the original series were reissued.

In 2016 Warner Music Poland decided to continue the original series by releasing new contemporary Polish Jazz recordings under the same format and even to continue the sequential numbering starting with Vol.77 – a decision I personally consider almost sacrilegious. Some things are simply untouchable, and the "Polish Jazz" series is surely one of those things. If Warner Music Poland wants to produce Jazz albums, which is always more than welcome, they could have started a new series, under a new title, rather than exploiting the reputation of the historic series.

As a result, some artist whose albums are released as part of the new series might be led to expect instant gratification, fame and stardom, just for being an artificial part of a prestigious past, which of course is as bogus as it is sad.
---