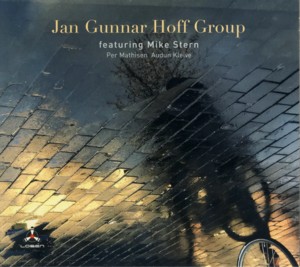 JAN GUNNAR HOFF ~ JAN GUNNAR HOFF GROUP FEATURING MIKE STERN
LOSEN 196 (Barcode: 7090025831966) ~ NORWAY ~ Jazz-Rock Fusion
Recorded: 2018
Released: 2018
---
This is an album by the excellent Norwegian trio led by pianist / composer Jan Gunnar Hoff

Find albums by this artist

with bassist Per Mathisen

Find albums by this artist

and drummer Audun Kleive

Find albums by this artist

, expanded to a quartet with the addition of the American guitar hero Mike Stern

Find albums by this artist

. The album presents eight original compositions, five by Hoff and three by Stern (originating from his solo recordings). The music is superbly recorded and offers a spectacular sound quality and clarity.

The music is a wonderfully melodic amalgam of Scandinavian moods, Fusion and Progressive Rock nostalgic vistas, which flows smoothly from one tune to the next like a gentle breeze over a fjord. The well crafted tunes are ideal vehicles for all the musicians to show their talents and the album offers an intimate opportunity to hear the individual performances by four first class musicians.

Stern´s playing on this album deserves a special attention, as it is quite different from what can be heard on his numerous recordings to date. It seems to be much more delicate and gentler than before, perhaps an effect of the time passing by or just the atmosphere and the musicians involved in this project. One thing is sure; it is definitely some of the finest guitar artistry ever produced by Stern over time.

Hoff is not only a prolific composer and recording artist but also a virtuoso keyboard player, able to create a palette of moods and sound vistas which are both intelligent and sophisticated and at the same time accessible to a large audience. His musical approach has a nostalgic (in the best meaning of the word) tinge to it, fondly resembling the great Prog / Rock / Fusion keyboardists of the late 1960s / early 1970s.

Mathisen is a Monster bassist, considered as one of the top electric bass players today, who leads his own projects and is a renowned composer as well, being a great representative of Norwegian music worldwide. His playing on this album represents his gentler, more relaxed character, which personally is my favorite.

Kleive is also a prolific Jazz artist and composer, very diverse but always right on the money. His performances here are a textbook example of supportive drumming without being obtrusive, full of grace and good taste.

Overall this is a terrific piece of music, which keeps things simple and straight to the heart, full of great playing and superb melody lines, devoid of unnecessary pose, which sadly rules in music today. Wholeheartedly recommended!
---