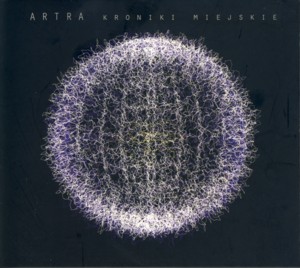 ARTRA ~ KRONIKI MIEJSKIE
STUDIO METROPOLIS 002 ~ POLAND ~ Avant-Garde Jazz
Recorded: 2018
Released: 2018
---
This is the debut album by the Polish Avant-Garde Jazz trio Artra

Find albums by this artist

which comprises of trumpeter / clarinetist Witold Popiel

Find albums by this artist

, percussionist Leszek Gapski

Find albums by this artist

and vocalist Joanna Swirska

Find albums by this artist

. The music, recorded live, is a continuous improvised piece later divided into six tracks, with the vocal parts overdubbed later on in the studio. No compositional credits are stated on the album´s artwork (created by Popiel, who is also a renowned graphic Artist and painter) and therefore are assumed to belong to the musicians involved.

Popiel´s involvement with the Polish Avant-Garde Jazz goes back to 1972, when he was active with the legendary ensemble Grupa W Skladzie

Find albums by this artist

(with Milo Kurtis

Find albums by this artist

, Andrzej Przybielski

Find albums by this artist

and others) and in 1973 he formed Artra with Gapski, which was re-activated over forty years later, leading to the recording of this album.

The music presents two distinct layers: the improvised conversation between Popiel and Gapski, and the overdubbed vocals, which come from the Polish folklore tradition, both musically and stylistically. The amalgam of these two layers creates a new musical landscape, which intends to reflect the City Chronicles ("Kroniki Miejskie" in Polish) of the Warsaw urban space. The overall effect of the music is very powerful and striking, full of emotions and intricate exchanges, enhanced by electronics and sound effects and elevated to a higher level with the vocal parts.

The album proves that Avant-Garde Jazz is still alive and kicking in Poland, although mostly hidden from the public eyes. It is quite different from the Free Jazz / Improvised Music scene, which is pretty strong in Poland since the turn of the Millennium, as it moves beyond purely musical concepts into interaction with other Art Forms, philosophy and social awareness, as it always did, since it was initiated by the Hippie generation in the early 1970s.

The album offers a generous dose of deep musical experiences, virtuosic performances and bold Artistic statements, which hit the listener right between his ears. Not for everybody, but open-minded listeners should have a field day with this music, which deserves repeated listening sessions.

Thank God that music like this is still being made today!
---