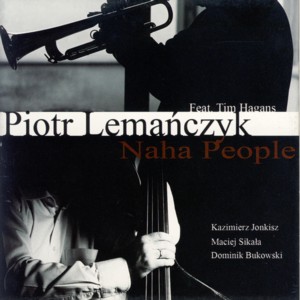 PIOTR LEMANCZYK ~ NAHA PEOPLE
SOLITON 122 (Barcode: 5907577112233) ~ POLAND ~ Jazz
Recorded: 2009
Released: 2009
---
This is a wonderful album by Polish Jazz bassist / composer Piotr Lemanczyk

Find albums by this artist

, recorded in a quartet setting with American trumpeter Tim Hagans

Find albums by this artist

and Polish vibraphonist Dominik Bukowski

Find albums by this artist

and veteran drummer Kazimierz Jonkisz

Find albums by this artist

. On three tracks the lineup is expanded to a quintet with the inclusion of saxophonist Maciej Sikala

Find albums by this artist

. The album presents seven original compositions, all by Lemanczyk.

The music is a brilliant example of modern Polish Jazz at its best, with superb compositions full of lyricism and elegance, as always in the case of Lemanczyk. Although within the mainstream idiom, the compositions allow for a degree of Freedom, which allows the soloists and the entire ensemble to float around the harmony and the rhythmic patterns, adding an element of surprise and curiosity. Although at the time of writing the album is nine years old, it sounds completely fresh and lost absolutely nothing of its vitality.

The individual statements are all excellent, as appropriate for musicians of this class. Hagans plays amazing staccato phrases and his clear tone and articulation are exemplary. I am pretty sure that the unusual lineup and Lemanczyk´s brilliant compositions are able to squeeze more out of him than his work within an American environment, which explains why he tends to play extensively with Europeans. Bukowski stays mostly in the background, although of course his playing always deserves to be up front, setting the harmonic layer for the music. His almost brotherly cooperation with Lemanczyk is an obvious bond of respect and complementation. Jonkisz elegantly drives the quartet / quintet with a firm hand and a gentle, respectful attitude of a true. Sikala adds some superb soloing on the tracks he is featured.

Lemanczyk´s playing is of course excellent as always, both as part of the rhythm section and as a soloist, and this album, as all his recordings, show why he is considered one of the absolute top Polish / European bassist. His compositions are equally impressive, beautifully woven and always coherent, with a touch of elegance and flair that only the most skillful Jazz composers are blessed with.

Overall this is, in retrospect, a classic Polish Jazz album, which deserves much more respect and attention that it received at the time of its release. Wholeheartedly recommended for all Polish Jazz fans and European Jazz connoisseurs, as an essential piece of the puzzle called Polish Jazz!
---