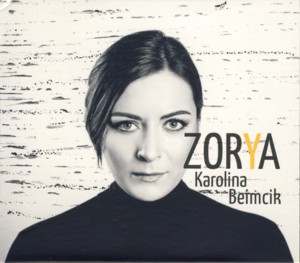 KAROLINA BEIMCIK ~ ZORYA
MULTIKULTI MPJ 017 (Barcode: 5907529223581) ~ POLAND ~ Jazz-World Fusion
Recorded: 2018
Released: 2018
---
This is an ambitious debut album by Polish vocalist / violinist / composer Karolina Beimcik

Find albums by this artist

with her new project called "Zorya", which is her interpretation of Polish / Ukrainian Folklore of the ethnic minorities like Boykos, Lemkos and Kurpie people, who maintain their linguistic dialects and traditions. Beimcik is accompanied by four excellent Polish Jazz musicians: guitarist Rafal Sarnecki

Find albums by this artist

, pianist Jan Smoczynski

Find albums by this artist

, bassist Michal Jaros

Find albums by this artist

and drummer Michal Miskiewicz

Find albums by this artist

. The album presents eight tracks (actually the album´s artwork lists eight tracks but credits refer to nine tracks, go figure), six of which are traditional tunes and two were composed by Beimcik. The music was recorded by Smoczynski at his excellent Studio Tokarnia, with excellent sonic quality as usual.

In spite of the presence of the Jazz musicians, the music itself has very little to do with the essence of Jazz and is dominated by the Folkloristic themes. The Jazz influences stay mostly in the background and are more ornamentation than the actual quintessence. The basic melodies have, as expected, a strong East European disposition, being all rather melancholic and gloomy, quite similar to each other. The two original compositions, and especially the title track, are much more Jazz oriented and Beimcik performs on them nice wordless vocalese parts in addition to instrumental solos.

The instrumental work by the team is all quite excellent, as appropriate from highly talented musicians of this class. Smoczynski takes most of the accompaniment on his shoulders, staying relatively in the background, Sarnecki adds tasteful guitar embellishments and the rhythm section provides a solid basis for the music, with a few exceptional bass solos by Jaros.

Overall this is another example of the amalgamation between Folklore and Jazz, which seems to be more popular and successful in Poland than anywhere else in recent years. Preservation of ethnic traditions is of course an obligation of any Cultural people, and projects like this one are all important, but some or more successful musically than others. Personally I´d prefer an entire album of music as represented by the two original compositions.
---