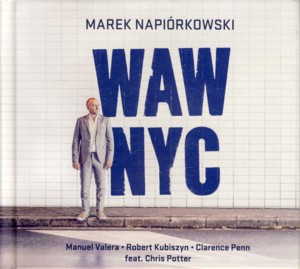 MAREK NAPIORKOWSKI ~ WAW NYC
AGORA 9788326825897 (Barcode: 9788326825897) ~ POLAND ~ Jazz-Rock Fusion
Recorded: 2017
Released: 2017
---
This is an album by Polish guitarist / composer Marek Napiorkowski

Find albums by this artist

, recorded (as the title suggests) with a Polish / American quartet, which also includes Cuban (resident in NY) pianist Manuel Valera

Find albums by this artist

, Polish bassist Robert Kubiszyn

Find albums by this artist

and American drummer Clarence Penn

Find albums by this artist

. American saxophonist Chris Potter

Find albums by this artist

guests on one track. The album presents seven original compositions, six by Napiorkowski and one by Kubiszyn.

The music presents a collection of beautifully melodic tunes, as appropriate for Napiorkowski´s already well established composing career, which all suite ideally his virtuosic guitar performances. Floating between genres and changing moods, the music eventually could be best described as Fusion, but of course in case of Napiorkowski that is only fitting for lack of a better term, as his music is way richer and ambitious than the usual Fusion efforts. The tunes are full of twists and turns, tempo changes and complex harmonic structures, that produce an overall powerful and broad sound, which keeps the listener on his toes from start to finish.

All the musicians participating in this project are Masters of their trade and their playing here is professional and perfect in every respect. The focus is obviously on Napiorkowski, but this is definitely a group effort in every respect and the leader shares the responsibilities with his partners on an equal foot. Valera is a magnificent pianist, with an incredibly sensitive touch on the keyboard and a soulful lyricism, which are ideal for this music. Kubiszyn is a highly melodic bassist, very sensitive to the intricacies this music requires and always there where his support is needed. Penn is exquisitely dynamic, always there behind the players, but never obtrusive or overwhelming beyond the call of duty.

Overall this is a wonderful album which is a true pleasure to listen to, calling for repeated listening sessions in order to get the depth and complexity of these performances absorbed in full. Fusion fans the world over should be melting to the sound of this music playing in the background, not to mention guitar diehards, who are in for a treat. But beyond the guitar artistry and group performances, the music is what stays in the long term! Hats off Maestro!
---