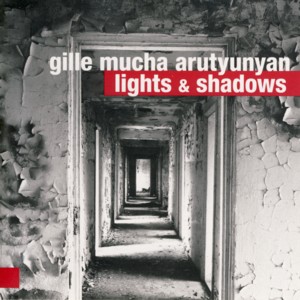 GILLE / MUCHA / ARUTYUNYAN ~ LIGHTS & SHADOWS
FOR TUNE 0130 (Barcode: 5906395808328) ~ GERMANY ~ Jazz
Recorded: 2016
Released: 2017
---
This is the debut album by the European Jazz trio consisting of German saxophonist Sebastian Gille

Find albums by this artist

, Polish bassist Max Mucha

Find albums by this artist

and Latvian drummer Ivars Arutyunyan

Find albums by this artist

. It presents eight tunes, seven of which are original compositions by the trio members, composed individually and collectively, and one is a Thelonious Monk

Find albums by this artist

standard. The album was recorded at the excellent RecPublica Studios and offers a beautiful, crystal clear sound quality.

The music is a wonderful example of contemporary Modern European Jazz, floating elegantly between melody-based themes and free form improvisations, always unpredictable and exciting. The intimate saxophone trio format is an ideal environment for these three immensely talented players to expose their individual potentials and create a fully functional unit, which sounds as one organic music making body. All the original compositions are absolutely first class and the trio´s interpretation of the Monk standard should make most American Jazz players eat their hats.

Gille is an exceptional and completely unique saxophone player, who is able to produce almost unearthly tones, which sound sometimes like violin or flute, and considering he is playing the tenor, this is absolutely amazing. His manner of slowing the tempo almost to a standstill is also extremely effective and creates enormous amounts of tension in the music, in spite of the fact that it is almost minimalistic.

Mucha plays superb bass parts and is able to singlehandedly supply both the harmonic layer, upon which the saxophone parts are based, as well as the rhythmic pulsations, which are precise like a chronometer and at the same time dance around the time measures like an ice skater. Although he is rarely seeking a position in the Polish Jazz limelight, his consistently excellent work in the last few years definitely earned him an honorary position among the young lions of the European bass players.

Arutyunyan stands shoulder to shoulder with his two partners playing the drums well beyond just keeping the time, which he actually does very rarely. His incredible dynamics and sensibility, not very often found amongst drummers, makes him an equal partner within this tight unit. He is certainly someone to keep an eye on in the future.

Overall this is an astonishingly beautiful, intelligent and surprising debut album, which is an example what great Jazz means today, something that others should listen to in order to learn from it and of course a source of immense pleasure for Jazz lovers. An absolute must to every true Jazz connoisseur!
---