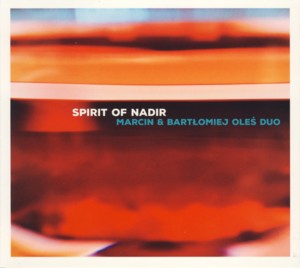 OLES BROTHERS ~ SPIRIT OF NADIR
AUDIO CAVE 2017/008 (Barcode: 5905669566353) ~ POLAND ~ Jazz-World Fusion
Recorded: 2013
Released: 2017
---
This is an album by the Polish Jazz duo consisting of twin brothers: bassist Marcin Oles

Find albums by this artist

and drummer Bartlomiej Oles

Find albums by this artist

, collectively known as Oles Brothers

Find albums by this artist

. It presents an eleven part suite co-composed by both brothers, recorded in 2013, which waited to be released for four years. Since the turn of the Millennium Oles Brothers earned the status of an iconic phenomenon on the Polish Jazz scene, releasing over 25 albums in various configurations, mostly in small formats like solo, duo and trio settings, with music encompassing a wide cross-genre amalgam of Jazz, Improvised Music, Jazz-Classical and Jazz-World Music Fusions. Their consistent excellence and purely artistic conviction puts them at the very top of world level musicians active today.

"Spirit Of Nadir" is a journey into the cultures of Near and Far East, with strong Middle Eastern influences of Jewish and Arabic roots, but also reaching as far as India and Indonesia, weaving an exquisite tapestry of sounds and rhythms which emphasizes the universality of music as part of the human nature. Seemingly restricted instrumentally and harmonically by the use of just bass and drums, the duo manages to create a universe of music, which sounds complete and coherent, ignoring completely the inherent limitations and presenting music which lacks nothing and is able to deeply move the listener and deliver an aesthetic experience; a wonderful example of quality being clearly more important than quantity.

Undoubtedly this is highly spiritual music, which requires from the listener not only his undivided attention, but also openness towards unusual (to most) harmonic and rhythmic structures. Although World Music has penetrated the rather limited and condescending Western aesthetics, it is still very much a niche scene, and therefore every effort, especially such wonderfully executed as this one, which brings music from diverse spheres together is worthy of praise and admiration.

It is very satisfactory to hear this wonderful music, which I have been familiar with almost since its conception and had the pleasure to hear it performed live, finally found its way to be released on CD by the upcoming Polish label Audio Cave

Find albums on this label

, which makes its presence known with increasing strength. Well done as usual and of course warmly recommended to all connoisseurs of great music everywhere on this planet!
---