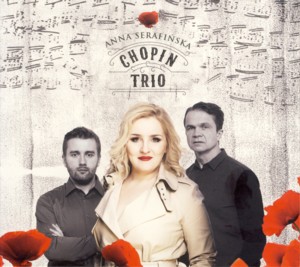 ANNA SERAFINSKA ~ CHOPIN TRIO
ART HORSE 001 (Barcode: 5908254159701) ~ POLAND ~ Jazz-Classical Fusion
Recorded: 2017
Released: 2017
---
This is the sixth album by Polish vocalist Anna Serafinska

Find albums by this artist

, this time recorded in a trio setting with pianist Rafal Stepien

Find albums by this artist

and drummer Cezary Konrad

Find albums by this artist

. As the title suggests, the album presents eight interpretations of pieces composed by the Polish composer Frederic Chopin

Find albums by this artist

, two of which have been complimented with lyrics.

Serafinska´s previous albums have all been only marginally Jazz oriented, dominated by Pop, Soul and Groove, which makes this her most ambitious endeavor to date. Additionally, considering the fact that Chopin´s music has been the subject matter of a multitude Polish Jazz (and non-Jazz) albums over the years, including such lofty vocal interpretations like those done by the NOVI ensemble, attempting to tackle this subject seems a priori highly risky.

I am happy to say that the album turned out to be a nice surprise in contrast to the initial reservations. Serafinska uses the full range of her voice here for the first time on record, reaching operatic ranges and performing spiraling vocalese parts which are able to break glass. Her vocal improvisations are Jazzier than at any time before and the intimate, minimalistic trio format works out splendidly. The music is non-trivial and sometimes even quite complex and the entire project has a much more aesthetic ambiance than ever before. Spiced with a subtle dose of good humor, it is simply great.

The vocals / piano / drums trio is highly unusual and takes time to get fully used to, but it is very effective musically, with Stepien laying down the melodic / harmonic background and Konrad performing a myriad of percussive pyrotechnics, both of them supporting the vocalese / vocals amicably. The resulting sound is innovative and intriguing, which in general is pretty rare these days. Of course as a result of this ambitious and sophisticated approach the music becomes less acceptable and requires more attentive listening than Serafinska´s earlier efforts.

Overall this is a very surprising and unexpected outing, better that anything Serafinska recorded earlier on and disclosing her abilities in new areas. By selecting the right partners and choosing the new format she redefined her artistic environment very successfully.

Both Chopin and Jazz lovers should find this album intriguing and challenging, but at the same time highly entertaining. Well done indeed!
---