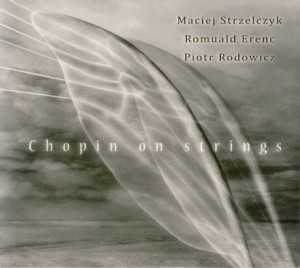 STRZELCZYK / ERENC / RODOWICZ ~ CHOPIN ON STRINGS
NOT ON LABEL ~ POLAND ~ Jazz-Classical Fusion
Recorded: 2017
Released: 2017
---
This is the debut album by the Polish trio comprising of violinist Maciej Strzelczyk

Find albums by this artist

, guitarist Romuald Erenc

Find albums by this artist

and bassist Piotr Rodowicz

Find albums by this artist

, who as the title suggests present twelve Jazzy arrangements of musical pieces originally composed by the Polish composer Frederic Chopin

Find albums by this artist

.

The music of Chopin has been a source of inspiration for endless Polish Jazz recordings, up to the point where it seemed the subject is simply exhausted. In the last decade however, there have been considerably fewer attempts to tackle Chopin´s music, and this project is a nice breath of fresh air. Since most Chopin projects are obviously piano based, the idea to transcribe the music for string instruments is original and changes the entire point of view of contemporary interpretation of his music.

The arrangements take a lot of liberties with the original music, especially in the rhythmic sense, which might be frowned upon by some purist, but the concept of freedom in interpreting music is a principle that should not be questioned. As a result, the listeners are exposed to familiar Chopin pieces, played in Bossa Nova rhythmic disguise, and other such unusual scenery, but the music is treated with respect and obvious love, as appropriate for the Polish National composer.

The music is very carefully executed by the three gifted instrumentalists, and the album is altogether a pleasant listening experience, which bridges Classical and Jazz Music in a new and original way. Although definitely on the lighter side of the Jazz spectrum, it certainly has its audience and is a lot of fun to listen to. The music is excellently recorded and the resulting sound quality is another asset of this album. Lovers of Chopin´s music and accessible Jazz should have a field day with this.
---