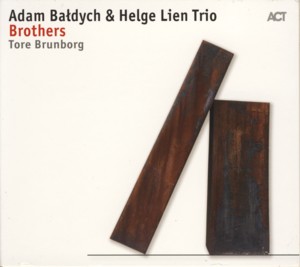 ADAM BALDYCH & HELGE LIEN TRIO ~ BROTHERS
ACT 9817 ~ POLAND ~ Jazz-Classical Fusion
Recorded: 2016
Released: 2017
---
This is the second album by Polish Jazz violinist / composer Adam Baldych

Find albums by this artist

recorded with the Norwegian piano trio led by pianist Helge Lien

Find albums by this artist

, with bassist Frode Berg

Find albums by this artist

and drummer Per Oddvar Johansen

Find albums by this artist

. They are joined by Norwegian saxophonist Tore Brunborg

Find albums by this artist

. The album presents nine pieces, eight of which are original compositions by Baldych and one is a classic standard by Leonard Cohen

Find albums by this artist

.

The music presents another step in the coherent development in Baldych´s musical path, which has been taking shape in the last few years, leading him away from "conventional" Jazz idiom into contemporary Neo-Romantic Classical Music. Although the element of improvisation is still very prominent, the melodic themes, mostly deeply lyrical and introvert, touch deeply with the characteristic elements of Polish Classical Music and Polish Folklore, somewhat parallel, or rather in continuation of the great Polish Classical tradition going back to Frederic Chopin

Find albums by this artist

. Perhaps the reference to Chopin might sound a bit over the top here, but people familiar with Chopin´s music will note how Baldych is skillfully able to pluck the soul´s strings that move the Polish People.

The Norwegian musicians playing with Baldych are his soul brothers, providing the ideal companionship needed for this delicate journey. The intrinsic melancholy of the Scandinavian (and especially so Norwegian) music goes ideally hand in hand with the direction Baldych intends to put forward. Of course the fact that they are brilliant and highly intelligent musicians also adds to final result. Together they are able to make this by and large minimalist and introvert music sound complete and highly expressive.

Overall this is a mature and focused statement by a great composer and a superb performer, which clearly affirms his status as one of the leading European musicians today. The music requires attentive listening, but for open-minded and music-living listeners it offers layer over layer of wonderful musical journeys into the world of contemporary Classical Music, Folkloristic motifs and Jazzy improvisations, all wrapped up in an elegant, highly aesthetic and moving "package". Well done Maestro!
---