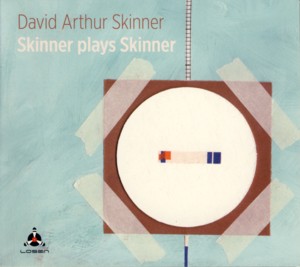 DAVID ARTHUR SKINNER ~ SKINNER PLAYS SKINNER
LOSEN 171 (Barcode: 7090025831713) ~ UK ~ Jazz
Recorded: 2016
Released: 2017
---
This is the second solo piano album on the Norwegian Losen

Find albums on this label

Records by the British, resident in Norway, pianist / composer David Arthur Skinner

Find albums by this artist

. The album, as the title suggests, presents ten original compositions by Skinner, which he, according to the liner notes, treats as if they were standards not written by him. The album was recorded at the legendary Rainbow Studio in Oslo and was engineered Jan Erik Kongshaug

Find albums by this artist

, with spectacular sonic result.

The music presents a diverse stylistic kaleidoscope of Jazz related sub-genres, which Skinner skillfully applies to his compositions, creating a wonderful, witty and graceful piece of music, which is a true delight to listen to from start to finish. Although technically brilliant, Skinner´s playing is first and foremost about the feel and the soul of the music. His playful touch on the keyboard is simply magical.

There is not much more one can say about this album, other than invite everybody to get hold of a copy and enjoy. There are no false pretenses here, no theatrics and no show-off – simply just music, a rare approach these days and therefore even more welcome.

Connoisseurs of piano Jazz in general and solo piano recordings in particular should find this album irresistible, entertaining and educational all at once. For the second time in a row Skinner wins using simplicity and honesty, two skills rarely used in Art these days! Well done indeed!
---