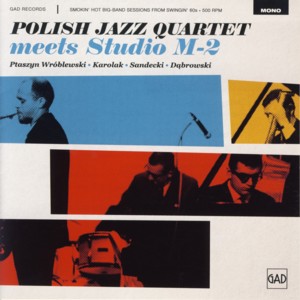 POLISH JAZZ QUARTET ~ MEETS STUDIO M-2
GAD 054 (Barcode: 5901549197709) ~ POLAND ~ Jazz
Recorded: 1964
- 1966
Released: 2017
---
This is a sensational archival album presenting the recordings by one of the formative modern Polish Jazz ensembles, the Polish Jazz Quartet

Find albums by this artist

, which comprised of saxophonist / composer Jan Ptaszyn Wroblewski

Find albums by this artist

, pianist / composer Wojciech Karolak

Find albums by this artist

, bassist Juliusz Sandecki

Find albums by this artist

and drummer Andrzej Dabrowski

Find albums by this artist

. The music included herein was recorded at the Polish Radio Studio M-2 with the studio orchestra conducted by Boguslaw Klimczuk

Find albums by this artist

. Twelve wonderful pieces of early modern Polish Jazz are included on this album, seven of which are original compositions by Wroblewski, two are original compositions by Karolak and the remaining three are by other Polish composers, arranged by Wroblewski or Karolak. This album is the only source of recorded material by the Polish Jazz Quartet other than their debut album released in 1965 as the third volume of the legendary "Polish Jazz" series.

The fact that the album does not include any American standards is extremely significant and points the way towards the development of the newborn Polish Jazz scene, which from its early days tried to create music different from the Jazz tradition, breaking away from the limitations and exploring new avenues, combining Jazz with the European musical tradition, local folklore and other influences, which eventually were to produce the "Polish Jazz Sound", which became an integral part of the Polish Cultural heritage.

Stylistically the music moves between Swing, Bebop and Orchestral Jazz, still very much rooted in the American Jazz tradition, but already clearly trying to break away from it, which can be heard especially in Wroblewski´s masterful arrangements, which are very different from the American Big Band convention. The melodies are also much more sophisticated and diverse that the standard Bebop tunes, which served as vehicles for improvisation, whereas in the tunes present here the melodic contents has a much larger presence and position.

The performances by all the musicians involved in these sessions are brilliant and one would never guess that this music was recorded beyond the Iron Curtain, where Jazz was in its early stages of development (at least on the National scale) and the musicians involved had very limited access to recorded material or performing experience. Listening to this album feels like taking a time machine trip five decades back in time, in order to visit the early childhood of modern Polish Jazz and the experience is truly magical.

As usual the fact that this music is available for us to enjoy is by no means trivial and only thanks to the efforts of Michal Wilczynski

Find albums by this artist

, owner of the GAD

Find albums on this label

Records label, it became a reality. Polish Jazz connoisseurs should be ever so grateful to this man for his unprecedented work.
---