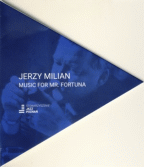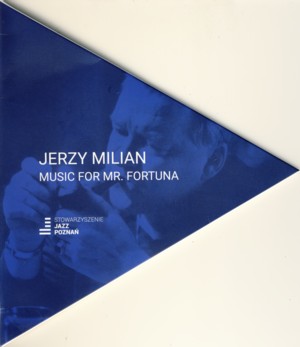 JERZY MILIAN ~ MUSIC FOR MR. FORTUNA
SJP 002 ~ POLAND ~ Jazz
Recorded: 2016
Released: 2016
---
This is a very unusual album in every respect and a wonderful illustration of the diversity, ingenuity and continued tradition of the Polish Jazz scene. It features nine original compositions by veteran Polish Jazz composer / vibraphonist Jerzy Milian

Find albums by this artist

, one of the legendary Godfathers of the local scene, including a two part composition which gave this album its title, which the composer created especially for the great upcoming Polish Jazz trumpeter Maciej Fortuna

Find albums by this artist

. Both Milian and Fortuna hail from the city of Poznan. The album also features an unconventional packaging in a form of a triangle, which easily wins the title of most awkwardly packaged album in recent times. The music is performed by a quartet, which includes Fortuna on trumpet, pianist Krzysztof Dys

Find albums by this artist

, bassist Jakub Mielcarek

Find albums by this artist

and drummer Przemyslaw Jarosz

Find albums by this artist

, which is occasionally also supported by a string quartet.

The music is all within the mainstream Jazz idiom, full of typical Milian´s melancholy and lyricism, which have always characterized his compositions. The execution is also rather constrained, fully delivering the beautiful melodic themes and elegantly incorporating the gentle quartet string arrangements. It is the most "conventional" album by Fortuna as of late, which emphasizes his deep respect for the Jazz tradition at its best.

The personal performances are, as expected, top notch. The music does not push Fortuna to exhibit the full power of his virtuosic abilities, but it definitely shows his elegance and finesse as a mainstream player. Dys is as masterly as always, here playing mostly the electric piano with great taste and his typical sense of humor. Mielcarek supports the soloists amicably and his strong pulse is the platform upon which the music moves forward. Jarosz keeps respectfully in the background, delicately adding his rhythmic support.

The title track (in two parts) is the most complex and advanced piece of music on this album and shows the full power of the quartet and the individual abilities at their best. But overall this is a very nice musical adventure which should be enjoyed by all Polish Jazz fans and the many followers of Fortuna.

The music is available as a free downloadable mobile app and of course is definitely recommended!
---