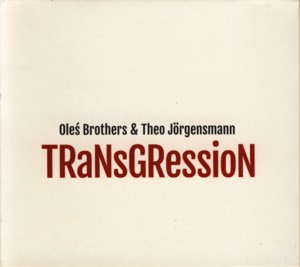 OLES BROTHERS / THEO JORGENSMANN ~ TRANSGRESSION
FSR 2016/04 (Barcode: 5905279364103) ~ POLAND ~ Jazz
Recorded: 2010
Released: 2016
---
This is the fifth album by the trio which unites Polish Jazz and Improvised Music twin team of bassist / composer Marcin Oles

Find albums by this artist

and drummer / composer Bartlomiej Oles

Find albums by this artist

, collectively known as Oles Brothers

Find albums by this artist

, and German clarinetist / composer Theo Jorgensmann

Find albums by this artist

. The music included on this album was recorded in 2010 and originally intended for release as their second album on the Swiss Hat Hut

Find albums on this label

Records Hatology

Find albums on this label

Label, but for a variety of reason was delayed and eventually released on the Polish FSR

Find albums on this label

label. It includes eleven original compositions, three of which are by Marcin Oles and four each by Bartlomiej Oles and Jorgensmann.

The album marks a culmination of a ten years period during which the trio recorded and performed together intensively. As a result their work here is remarkably coherent and organic and the musical unity they demonstrate is truly marvelous. The music flows flawlessly between solo, duo and trio statements, with the rhythm section being elevated to a status of frontline performers. The telepathic conversation between all three musicians is staggering, as usual, and the trio becomes a complete, undividable unit.

The album also marks a path towards more composed and less freely improvised music, which has characterized the trio´s progression over time. That does not mean of course that the music is restrained in any way, but the composed structures are plainly hearable and strictly adhered to, notwithstanding the enormous degree of freedom applied in the performances themselves.

In retrospect this is definitely a brilliant closing chapter to the trio´s activity, which was certainly one of the most interesting European Jazz units at the time. Of course for Oles Brothers this was definitely a period of establishing their position as one of the most talented leading European rhythm sections in parallel to their ever growing career as composers.

It is great to have this album finally available, thanks to the persistence of the Oles Brothers and of course Maciej Karlowski

Find albums by this artist

of FSR, who finally managed to bring this saga to a happy end. The album includes the liner notes by American critic Art Lange, which were written for the intended release on Hatology in 2011, so even that piece of the puzzle was saved. Enjoy!
---