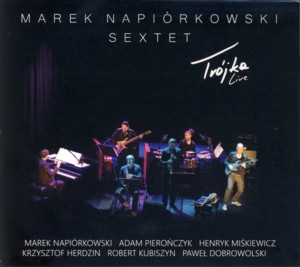 MAREK NAPIORKOWSKI ~ TROJKA LIVE
POLSKIE RADIO 1914 (Barcode: 5907812249144) ~ POLAND ~ Jazz
Recorded: 2015
Released: 2016
---
This is a live album recorded at the Polish Radio Studio Three by Polish Jazz guitarist / composer Marek Napiorkowski

Find albums by this artist

. The recording captures Napiorkowski in a sextet setting with some of the absolute top Polish Jazz payers: saxophonists Adam Pieronczyk

Find albums by this artist

and Henryk Miskiewicz

Find albums by this artist

(who also plays on bass clarinet), pianist Krzysztof Herdzin

Find albums by this artist

(who also plays flute), bassist Robert Kubiszyn

Find albums by this artist

and drummer Pawel Dobrowolski

Find albums by this artist

. They perform six original compositions, all by Napiorkowski.

The music is a superb example of modern mainstream Jazz, which combines excellent compositions with perfect execution. Based on beautiful and masterly woven melodic themes, full of romanticism, melancholy and typical Polish mystery, the tunes presented here have been masterly arranged for the sextet by Herdzin, who is celebrated for his ability to create wonderful sonic structures, which are elaborate and highly sophisticated but sound remarkably pleasing.

The lineup selected by Napiorkowski ensured a truly marvelous performance, with all the musicians involved having plenty of opportunity to play extended and expressive solos. The leader delivers his usual, slightly Fusion oriented strings of pearls on his electric guitar, which are, as always, dazzling. He also uses the acoustic guitar no less effectively. The saxophonists have plenty of opportunities to play heartwarming solos, the bass clarinet and flute provide nice atmospheric layers, the piano keeps the harmony together and leads the way and the excellent rhythm section takes care of the pulse, always perfectly on time.

However, the individual performances are only pieces of the puzzle, which, when combined together, creates a much stronger and more satisfying whole. This is one of the best mainstream Jazz ensemble albums I came across lately, which proves that mainstream Jazz can be fulfilling and sophisticated, if talented and dedicated musicians are involved. The arrangements and the team work present here are a classic example of contemporary mainstream Jazz perfection.

As if all this wasn´t enough, the album is also beautifully recorded and considering the fact that this is a live recording, the quality is even more remarkable.

Overall this is a superb modern mainstream album, which offers beautiful compositions and perfect execution, and which should satisfy even the sternest connoisseurs and bring joy to all true Jazz lovers. Hats off!
---