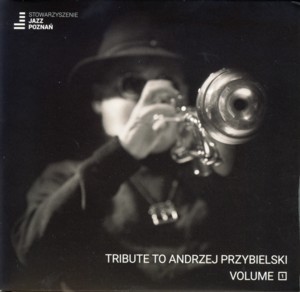 VARIOUS ARTISTS ~ TRIBUTE TO ANDRZEJ PRZYBIELSKI VOL.1
SJP 001 ~ POLAND ~ Jazz
Recorded: 2016
Released: 2016
---
This is a criminally overdue tribute album to the Polish Jazz trumpeter / composer Andrzej Przybielski

Find albums by this artist

(born 1944), who died in 2011, recorded by an ensemble which features six Polish Jazz trumpeters: Maciej Fortuna

Find albums by this artist

(born 1982), Marcin Gawdzis

Find albums by this artist

(1972), Wojciech Jachna

Find albums by this artist

(1976), Tomasz Kudyk

Find albums by this artist

(1976), Piotr Schmidt

Find albums by this artist

(1985) and Maurycy Wojcinski

Find albums by this artist

(1988), i.e. mostly members of the middle aged and young generation of the Polish Jazz scene. The ensemble also features a rhythm section which comprises of guitarist Jakub Kujawa

Find albums by this artist

, bassist Grzegorz Nadolny

Find albums by this artist

and drummer Grzegorz Daron

Find albums by this artist

. Together they perform four compositions by Przybielski and three collectively improvised pieces. The album also includes a conversation with Przybielski recorded in 2007 at the legendary Mozg club in Bydgoszcz, Przybielski´s home town, which also includes fragments of his performances.

The recording and the release of this album was the initiative of Fortuna, who felt an obligation to document and commemorate Przybielski´s contribution to Polish Jazz, which is of course highly praiseworthy. However it is difficult to ignore the fact that Przybielski died a dissolute, lonely, sick, neglected and forgotten man, which left a huge black stain on the Polish Jazz scene. Not less significant is the absence on this album of the top Polish Jazz trumpeters of his generation, which painfully emphasizes the fact that Przybielski never received the recognition he so much deserved from his contemporaries and was mostly adored and respected by musician much younger than himself. His life´s story is a classic epos of Avant-Garde being denied recognition at its peak only to be recognized in the aftermath.

Personally I had the pleasure of knowing Przybielski and working with him on several projects in the 1980s, being immediately convinced that he is the most interesting Polish Jazz trumpeter on the local scene at that time. My admiration for his work never ceased, being only rekindled following the tragic news of his death.

With all respect to the actual music present on this album, which is very good, it is only secondary to the very existence of this project. Thanks and salutations are of course due to Fortuna and the many people who made this project possible and which, as the Vol.1 suggests, will be continued in the future.

There are many fascinating moments on this album, some superb trumpet passages and solos, great group improvisations and so on. The musical concept is however a bit unclear, as far as I am concerned. Also the idea of six trumpeters playing together, as potentially interesting as it might appear is less effective in reality in my opinion. Perhaps a collection of pieces featuring prominently just one trumpeter or at most two, playing in turn might have been more effective? But these are just matters of personal taste.

Of course all these trumpeters can play and they do play well, but as far as a tribute is concerned, the music is supposed to be spiritually convergent to the music of the subject to whom the tribute is dedicated, which, as already mentioned above, is not really apparent herein.

But all things considered, this is a very important album, not only for its music but primarily for what it symbolizes, for its historical importance and for the example it sets. As such it is undoubtedly a major event and a great success!
---