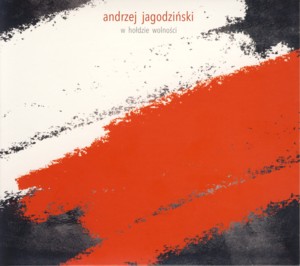 ANDRZEJ JAGODZINSKI ~ W HOLDZIE WOLNOSCI
POLSKIE RADIO 1986 (Barcode: 5907812249861) ~ POLAND ~ Jazz
Recorded: 2015
Released: 2015
---
This is a live recording of a concert performed by veteran Polish Jazz pianist / composer Andrzej Jagodzinski

Find albums by this artist

, which was organized to commemorate the fifteenth Anniversary of the IPN (Institute of National Remembrance). For the concert Jagodzinski collected thirteen pieces of Polish music, which constitute a soundtrack of the Polish struggle for Freedom, both National and Political. They range from music composed by the Polish National composer Frederic Chopin

Find albums by this artist

to popular Folk and Pop songs, mostly those related in many ways to the Polish underground struggle during WW II, including the heroic Warsaw Ghetto uprising and the no less heroic Warsaw Uprising, the anti-Communist struggle following the immediate post-WW II years and up to the Solidarity movement, which finally led to the creation of the Free Polish Republic with the fall of the Soviet Empire.

These are all undoubtedly patriotic songs, one way or another, and in time when patriotism is often not considered as "politically correct", it is encouraging to see musicians taking a clear stand, without being ashamed or intimidated by it. Polish Jazz history has always been intertwined with political messages, as was Polish Literature, Poetry, Film and all other Arts. Being able to state one´s political or patriotic view is after all an integral ingredient of the very Freedom, Poles have been fighting for so long.

Jagodzinski "called to arms" some of the top Polish Jazz musicians on this album: vocalists Anna Stankiewicz

Find albums by this artist

and Agnieszka Wilczynska

Find albums by this artist

, guitarist Janusz Strobel

Find albums by this artist

, trumpeter Robert Majewski

Find albums by this artist

, bassist Adam Cegielski

Find albums by this artist

and drummer Czeslaw Bartkowski

Find albums by this artist

. They all perform brilliantly, which is hardly surprising considering their experience and talent, creating a sensitive, intelligent and moving piece of meaningful music with carries a clear message without being vulgar or offensive. Jagodzinski´s arrangements are all elegant and tasteful, suiting the atmosphere ideally.

Of course this album has a layer which speaks only to people, who understand the Polish language and have some knowledge of Polish history. Nevertheless it has also universal values, which should be able to cross language barriers.

This album made very little impact on the Polish Jazz scene at the time of its release, which is a great pity. The fragmented and often plainly divided Polish Society should really grow up put aside its political differences, when it comes to appreciation of Art or human relationships. The precious Freedom is after all so fragile and easily lost..
---