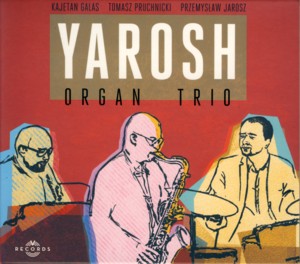 YAROSH ORGAN TRIO ~ YAROSH ORGAN TRIO
V 010 (Barcode: 5903111377106) ~ POLAND ~ Jazz
Recorded: 2016
Released: 2016
---
This is the debut album by the Polish Jazz ensemble called Yarosh Organ Trio

Find albums by this artist

, led by veteran drummer / composer Przemyslaw Jarosz

Find albums by this artist

with organist Kajetan Galas

Find albums by this artist

and saxophonist Tomasz Pruchnicki

Find albums by this artist

. Together they perform eight original compositions, all by the leader. The album was recorded live, judging by the audience reaction at the very end, although this is not specified on the artwork.

The music is mostly melodic mainstream with occasional ventures into more ambitious territory, but overall it is overtly accessible. I have always declared my unconditional love for the Hammond B-3 organ with the Leslie speaker, and this is what dominates the sound of this album, which of course makes it extremely easy to be liked by yours truly. But beyond the Hammond sound, the album presents a series of fine compositions, which are far from trivial and the unusual amalgamation of saxophone, Hammond and drums is also intriguing.

Galas already recorded a great album with his trio Organ Spot

Find albums by this artist

three years earlier and his performances here are a clear proof of his progression as a player over time. Jarosz has an extensive career as a recording artist and Jazz educator and Pruchnicki also already made his mark on the local scene. Together as a trio they perform spotlessly and together they present a well oiled music machine, which takes the stage by storm.

Of course this kind of music is not supposed to break any new background or revolutionize the idiom; its sole purpose is to entertain and provide the listener with an opportunity to have a great time, which is perfectly OK with me in this case. Hammond freaks should all have a field day with this album!
---