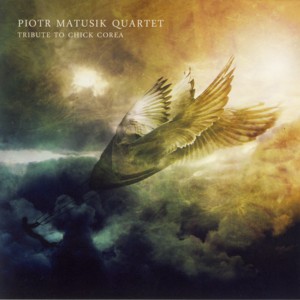 PIOTR MATUSIK ~ TRIBUTE TO CHICK COREA
REGIO 602547470744 (Barcode: 602547470744) ~ POLAND ~ Jazz
Recorded: 2014
Released: 2015
---
This is the debut album by young Polish Jazz pianist / composer Piotr Matusik

Find albums by this artist

, and as the title suggests it is dedicated to the music of Chick Corea

Find albums by this artist

, featuring six Corea classic compositions. The album was recorded in a quartet setting, which includes also saxophonist Jakub Chojnacki

Find albums by this artist

, bassist Dariusz Ziolek

Find albums by this artist

and drummer Adam Buczek

Find albums by this artist

.

Obviously it´s not difficult to understand why a young and aspiring pianist would choose Chick Corea as his role model; after all Corea is one of the greatest and most revered Jazz musicians in all times and a brilliant, often visionary pianist / composer. However, recording an album consisting entirely of Chick Corea´s compositions as a young pianist´s debut album is a hazardous and honestly a questionable decision. It takes years of experience to understand and than tackle the complexity and depth of Corea´s compositions, way beyond the sheer ability to play them.

The easiest way to look at it would be to compare each of the compositions featured on this album with the original initial versions of the same compositions as recorded by Corea himself. The album starts with "Now He Sings, Now He Sobs

Find albums with this title

" from the album by the same name recorded by Corea in March 1968, shortly before he started playing with Miles Davis

Find albums by this artist

. It was recorded by a trio with Miroslav Vitous

Find albums by this artist

on bass and Roy Haynes

Find albums by this artist

on drums and marked the beginning of Corea´s most Avant Garde, adventurous and experimental period. At the time of its release the album was completely revolutionary, original and groundbreaking. Now the version of the same composition heard on this album sounds like lounge Smooth Jazz, easy on the ear and of course completely trivializing the original music, which hardly goes well with the "tribute" intention. A similar analysis of all the rest of the album reveals sadly more or less a similar pattern.

Let´s get something straight here: these four musicians can play well, even exceptionally well. They are schooled and trained and they know their notes and chords and harmonies. And yet it all comes to nothing as far as creative, ambitious music making is concerned. This album is a terrible mistake, a waste of energy and a lack of direction. Playing someone else´s music in a watered down version is definitely not a way to go by a young and aspiring musician.

Of course the future is still very much ahead of these musicians, and anything can happen. It is my duty to point them in a right direction, even if this is a seemingly cruel and painful way to do it. Better luck next time.
---