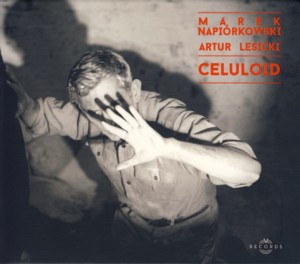 MAREK NAPIORKOWSKI / ARTUR LESICKI ~ CELULOID
V 009 (Barcode: 5903111377076) ~ POLAND ~ Jazz
Recorded: 2014
Released: 2015
---
This is the fifth album as a leader (or co-leader in this case) by Polish guitarist / composer Marek Napiorkowski

Find albums by this artist

, one of the most respected musicians on the local scene. This time Napiorkowski teams up with another Polish guitarist / composer Artur Lesicki

Find albums by this artist

, and as a duo they deliver a series of wonderful tunes, dedicated, as the title suggests, to the Polish Cinema and the music associated with Polish Cinematic Art. The album´s nine tracks feature music from six classic Polish movies (or TV series), composed by such luminaries as Krzysztof Komeda

Find albums by this artist

, Tomasz Stanko

Find albums by this artist

, Wojciech Kilar

Find albums by this artist

, Andrzej Kurylewicz

Find albums by this artist

and others, directed by no less iconic figures such as Roman Polanski

Find albums by this artist

, Andrzej Wajda

Find albums by this artist

and others. Both Napiorkowski and Lesicki contribute one original composition each, with the title tune (by Napiorkowski) repeated twice.

The intimate and delicate duet setting creates a truly magical atmosphere, with the perfect balance between the acoustic and touches of electric sound, melody and improvisation, lyricism and inspiration. In fact this is definitely one of the best guitar duo albums I had the pleasure to listen to ever since I can remember. It is a perfect example of a case when two musicians simply amalgamate into one completely symbiotic and integral musical unit. Although obviously at some moments one of the players does play the lead and the other accompanies him, interchangeably of course, they are at all times simply one instrument, producing a coherent and fused soundscape.

The music selections as well as the original compositions are all beyond reproach and the affectionate and intelligent treatment applied by the musicians awards everything such great music deserves: respect, love and personal involvement. Although seemingly basic and simple, the resulting music is full of intricacies that can be revealed only by very attentive and open-minded listening, which this exquisite album truly deserves.

It is such a pleasure to see Napiorkowski move forward and try new things on his musical path. Compared to the complexity and sophistication of his previous album "Up!

Find albums with this title

" the intimacy and modesty of this album might appear as strikingly different, and yet Napiorkowski manages to preserve the quality and total dedication in full, regardless of the external form of his work. There are but a few musicians around with such class.

In short this is simply a gem of an album, which enchants and uplifts spiritually from the very first to the very last note delivered. Superb sound quality and production turn it into a superb aesthetic treasure, which should not leave any listener unmoved. Hats off to both magicians!
---