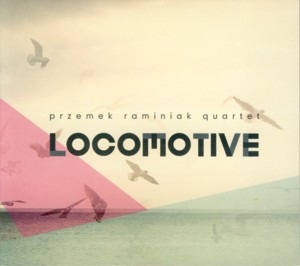 PRZEMYSLAW RAMINIAK ~ LOCOMOTIVE
SOLITON 417 (Barcode: 5901571094175) ~ POLAND ~ Jazz
Recorded: 2014
Released: 2015
---
This is the first album by Polish Jazz pianist / composer Przemyslaw Raminiak

Find albums by this artist

, following his departure from the seminal Polish piano trio RGG

Find albums by this artist

, of which he was a founding member. The album was recorded in a quartet setting and features also saxophonist Jakub Skowronski

Find albums by this artist

, bassist Bartosz Kucz

Find albums by this artist

and American drummer Frank Parker

Find albums by this artist

. The album presents eight original compositions, seven composed by Raminiak and one co-composed by him with Skowronski.

Musically the album presents a complete about face as far as Raminiak´s role with RGG is concerned. No more long, contemplative, lyrical and almost free form ambient explorations, but straightforward melodic mainstream, almost smooth Jazz, energetic, vigorous, funky, groovy and danceable. Although at the first moment this can be quite shocking to some of Raminiak´s fans, there is basically nothing wrong with changing one´s approach, even dramatically. If Chick Corea

Find albums by this artist

and Herbie Hancock

Find albums by this artist

can do it, why can´t Przemyslaw Raminiak do it as well?

This is very immediate music and yet it has many virtues: the melodies are all first-class, the arrangements are slick and professional and the performances are brilliant in that particular milieu. Raminiak plays acoustic and electric piano and a few synthesizers, always with flair and spotless technique, which of course is not surprising. Skowronski is a big surprise with his smooth phrasing and superb melodiousness. The rhythm section plays pretty solid background timekeeping stuff, with beautiful fretless bass playing a few nice solos and drums staying respectfully in the background, as appropriate for this setting. In short this whole thing works like a dream, delivering pleasant, nontrivial and highly satisfactory music, which is a lot of fun to listen to.

Of course Raminiak will be accused of "selling out" and playing rubbish by Polish "music critics", but honestly most of them secretly enjoy this music very much and are simply embarrassed to admit it. As far as fellow musicians are concerned most of them wish they could come up with an album like this one themselves.

So here it comes again people: this is a great album for what it is, straightforward uncomplicated good music. We can´t eat the same food all the time and we can´t listen to the same music all the time – this is definitely a nice alternative, mostly for those who know it all.
---