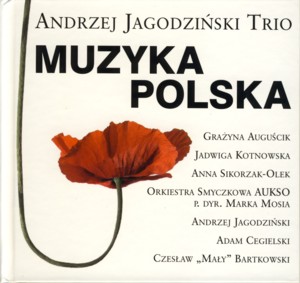 ANDRZEJ JAGODZINSKI ~ MUZYKA POLSKA
PRIVATE EDITION (Barcode: 9788393067428) ~ POLAND ~ Jazz-Classical Fusion
Recorded: 2009
- 2010
Released: 2011
---
This is a beautiful and very ambitious album by Polish Jazz pianist / composer Andrzej Jagodzinski

Find albums by this artist

and his trio with bassist Adam Cegielski

Find albums by this artist

and drummer Czeslaw Bartkowski

Find albums by this artist

, also involving the great vocalist Grazyna Auguscik

Find albums by this artist

and two Classical Music soloists: flautist Jadwiga Kotnowska

Find albums by this artist

and harpist Anna Sikorzak-Olek

Find albums by this artist

, as well as the AUKSO String Orchestra

Find albums by this artist

conducted by Marek Mos

Find albums by this artist

. The album presents a seven part Jazz suite for piano trio, voice, string orchestra and soloist, which attempts to "define" what "Polish Music" means in general and especially in the Jazz context as what we understand under the term "Polish Jazz". Five parts of the suite are based on Polish Folk tunes, one is a Krzysztof Komeda

Find albums by this artist

composition and one is a tune composed by Marcin Januszkiewicz

Find albums by this artist

. Jagodzinski and Auguscik arranged the vocal parts and Jagodzinski wrote the elaborate piano trio / string orchestra arrangements.

The concept behind this album obviously points towards the conclusion that contemporary Polish Music / Polish Jazz are a synthesis of the Polish Folk tradition with contemporary music forms. The Polish Folk tradition is most obviously identified with the Polish Folklore dances, such as kujawiak, mazurka, oberek and others, but also with the intrinsic Polish melancholy and lyricism, which create its unique characteristics, which are instantly recognizable to a trained ear. Regardless of the concept, this album is first and foremost a true celebration of music, crossing and bridging between Folklore, Jazz and Classical Music and doing it in an impressive, intelligent and truly beautiful way. All the parts and ideas fall together into an amazing amalgam, which is a delightful listening experience.

The album is also a wonderful platform to enjoy the individual contributions by the participating musicians. Auguscik again proves that she has very little competition on the local scene and her wonderful sensitivity and power of expression are simply stunning. Her appearance on this album is somewhat prophetic in the sense that her album "Inspired By Lutoslawski

Find albums with this title

", which was recorded four years after this one, would deal with the same subject matter. Jagodzinski, who also plays accordion on this album, and his trio cohorts, as well as the soloists and orchestra all perform spotlessly and harmoniously, with obvious dedication and joy of creation.

This is the best album by far that Jagodzinski recorded during his splendid career, and one of the best attempts to create a coherent musical concept, dedicated to Polish Music. Personally I´d love to see more such attempts done by other musicians. Discovering one´s musical roots and traditions is surely preferable to imitating other cultures.

This album is a pure delight from start to finish and I recommend it wholeheartedly to every Polish Jazz fan, as it reveals many of the innermost secrets about what Polish Jazz really means.
---