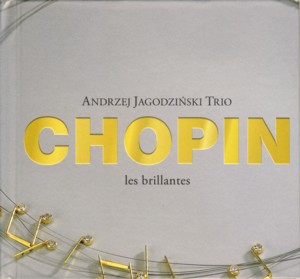 ANDRZEJ JAGODZINSKI ~ CHOPIN LES BRILLANTES
PRIVATE EDITION (Barcode: 9788393067404) ~ POLAND ~ Jazz
Recorded: 2009
Released: 2010
---
This is the fifth album dedicated to Jazz interpretations of the music composed by the great Polish composer Frederic Chopin

Find albums by this artist

recorded by Polish Jazz pianist / composer Andrzej Jagodzinski

Find albums by this artist

and his trio with bassist Adam Cegielski

Find albums by this artist

and drummer Czeslaw Bartkowski

Find albums by this artist

. This double album is a fact a new recording of the same material that is featured on the trio´s first two albums recorded fifteen years earlier, re-captured from a retrospective view and enriched by years of common experiences and joy of playing this music together.

When Jagodzinski first recorded Chopin´s music twenty years ago he was pioneering a trend, which in time swept the Polish Jazz scene like a tsunami, with literally hundreds of albums with Chopin´s music reinterpreted in the Jazz milieu. These attempts to follow a trend and jump on a bandwagon, which varied in quality form important and innovative to completely redundant and often preposterous, eventually had an adverse effect on the Polish Jazz fans, who had just about enough of Jazzy Chopin being showed down their throats.

Even if the original recording of Chopin´s music by Jagodzinski and his trio were not perfect and lacked the practice, they were bold, innovative and fresh. Sadly the repeated attempt, although richer and with better arrangements, lacks the original qualities and therefore is in some respect not such a great idea. Of course Jagodzinski and his cohorts are superb musicians and do a wonderful job playing on this album, but sticking to the original recordings is by and large preferable and sounds like a good idea. On the other hand since the original Polonia

Find albums on this label

releases are not easily available, perhaps this album can fill the gap.

Overall there is plenty of great music herein, as well as excellent playing by these legendary veterans and in case you don´t own the original recordings this one is definitely worth checking out.
---