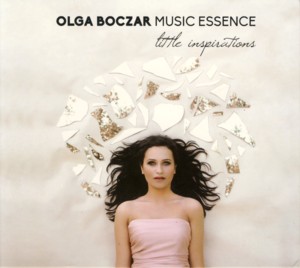 OLGA BOCZAR MUSIC ESSENCE ~ LITTLE INSPIRATIONS
NOT ON LABEL 001 (Barcode: 5905279086005) ~ POLAND ~ Pop & Rock
Recorded: 2013
- 2014
Released: 2014
---
This is the debut album as a leader by Polish vocalist / flautist / songwriter Olga Boczar

Find albums by this artist

, recorded with her ensemble called Music Essence

Find albums by this artist

, with core members: keyboardist Jan Smoczynski

Find albums by this artist

, guitarist Andrzej Gondek

Find albums by this artist

, bassist Wojciech Pulcyn

Find albums by this artist

and drummer Pawel Dobrowolski

Find albums by this artist

. In addition several other musicians also participate on selected tracks, including bassist Krzysztof Pacan

Find albums by this artist

, saxophonist Radek Nowicki

Find albums by this artist

, trumpeter Dominik Gawronski

Find albums by this artist

, trombonist Michal Tomaszczyk

Find albums by this artist

and several background vocalists; altogether quite a formidable team. The album presents ten original songs all composed by Boczar and with lyrics mostly written by her as well. Only two of the songs feature lyrics in Polish and eight have English lyrics. The music was recorded in three different studios, including the Studio Tokarnia where Smoczynski also served as the sound engineer recording the rhythms section tracks.

In spite of the fact that the album features some very prominent Polish Jazz musicians, it is by no means a Jazz album. Except for a few piano solos, the album presents a singer / songwriter Pop / Rock effort with slight Jazzy accents mostly present in some of the arrangements. There is of course nothing wrong with that, but promoting and marketing this album under a Jazz moniker is a conceptual mistake.

The music is a collection of mostly low key melancholic melodies, which all sound a bit similar and leave no lasting impression. Everything is "nice" and "smooth", but there is no excitement, zest or attempt hit the listener between his eyes. Boczar´s voice and delivery don´t help much either, as she has a limited range and sings in the same narrow spectrum using repeatedly the same mannerisms, regardless of the text she is singing. Except for a few vocalese attempts, the rest is rather unexciting. And on top of this all these there is the problem with lyrics in English, which sound pretty inappropriate. In contrast, plainly audible, the two songs sung in Polish sound infinitely better.

The instrumental work is all quite all right, but again lacks any spark. The arrangements are all rather trivial, and the potential of such mighty team of musicians seems completely wasted. Except for the already mentioned piano solos, there is no attempt to put some excitement into this music. Overall this is all professionally done, but sadly completely uninspired.

This album has a potential on the Polish Pop market, if promoted properly. It might even win a Fryderyk award next year, as anything can happen there, but hopefully not in the Jazz category.

And before an outcry of angry responses accusing me of ruining young people´s careers erupts again, let me emphasize that this is just my private, subjective opinion, which has absolutely no bearing on anybody´s fate.
---