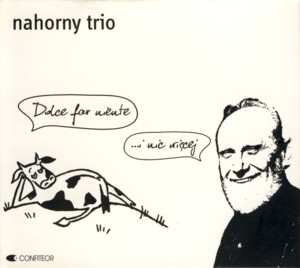 WLODZIMIERZ NAHORNY ~ DOLCE FAR NIENTE …I NIC WIECEJ
CONFITEOR 003 ~ POLAND ~ Jazz
Recorded: 2000
Released: 2002
---
This is a wonderful album by veteran Polish Jazz pianist / saxophonist / composer Wlodzimierz Nahorny

Find albums by this artist

, recorded in a classic piano trio format with bassist Mariusz Bogdanowicz

Find albums by this artist

and drummer Piotr Biskupski

Find albums by this artist

. The album features twelve relatively short pieces, ten of which are original Nahorny´s compositions, one is a folk song and the last is an arrangement of works by Polish Classical composers Frederic Chopin

Find albums by this artist

and Karol Kurpinski

Find albums by this artist

.

In addition to his Jazz activities Nahorny is also acknowledged for writing many popular songs, which became in time Polish evergreens. This album presents many of these songs in an instrumental version with Jazzy arrangements, performed affectionately and passionately by the composer and his cohorts.

Nahorny´s music is always full of typical Polish lyricism and melancholy, which come to light even in the seemingly happier, up tempo numbers. He loves the waltz and Polish folkloristic dances, all of those elements which are the cornerstones of what is considered Polish music, and he openly and lovingly embraces them in his compositions.

The way Nahorny plays the piano is completely unique; a mixture or Classical, Jazz and Blues strokes combined into one stylistic approach, which is specifically his and his only. Although distinctly melodic and seemingly simple, his piano often wanders away from the main melodic line into less charted territory, which more experienced listener will find fascinating and those less experienced won´t mind or even notice.

The rhythm section sounds like an extension of the leader, following his every move elegantly and attentively. A few modest but excellent bass and drums solos are part of the proceedings, but the main role of the rhythm section remains, as appropriate, to accompany the leader, which it does with flair and zest.

This is timeless music, which remains classic regardless of what the contemporary trends may bring. Superb sonic quality ensures a complete listening pleasure and what remains is to relax and enjoy every moment of this delightful delivery.
---