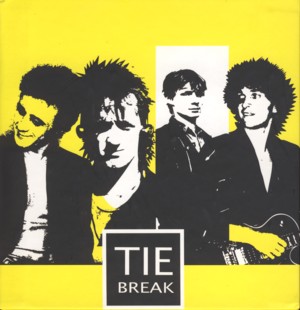 TIE BREAK ~ TIE BREAK (BOX SET)
NOT ON LABEL ~ POLAND ~ Jazz-Rock-World Fusion
Recorded: 1984
- 1995
Released: 2014
---
This incredible Box Set is a long overdue tribute and homage to Tie Break

Find albums by this artist

, one of Poland´s most important ensembles in the country´s modern music history, a cult phenomenon known mostly only to insiders and a cradle of the Polish rebellious musical underground, which kept the flame of uncompromised Artistic expression burning for decades, while the rest of the scene was drowning in opportunistic nothingness and anticultural shite.

Of course analyzing the importance of Tie Break is impossible without explaining the political, social, economic and historical background of Poland during the period spanning about three decades from the early 1970s to the late 1990s, which is the period when the ensemble was active in one form or another. However, as usual, a scope of a music review is definitely way too limited to even attempt such a challenging task, therefore my references to these subjects will be naturally limited. It is important to remember that these were the most tumultuous years for the Polish People, and amongst them Polish Artists, which saw a gradual but dramatic transformation from the darkest pits of Socialist Regime to a free Democratic society, a process of unparalleled National trauma and Social upheaval.

Tie Break hails from Czestochowa, a provincial Polish town (which happens to be the birthplace of my Father), famous as one of Poland´s most important religious centers, with the Pauline Monastery of Jasna Gora and its Black Madonna painting drawing millions of Catholic pilgrims every year from the world over. Even during the darkest times of the Socialist Regime the town kept being flooded by pilgrims, to the dismay of the ruling party officials. In order to change the town´s image a huge steel mill and other industrial enterprises were constructed in the area, which caused a rapid expansion of the town (and of course massive pollution). In retrospect Czestochowa had its share of unholy activities, with dozens of Beat and Rock groups active in the city since the late 1960s, and the early days of Tie Break are largely a result of this background, leading to the formation of the ensemble in the late 1970s. Music was, after all, a most popular method of escapism for young people living at the time on both sides of the Iron Curtain. The need to escape reality was as strong in the case of deep economic depression in the West as it was in the case of oppressive ideology in the East.

The group went through many personnel changes during its early days, but eventually the core crystallized around four musicians: trumpeter Antoni Gralak

Find albums by this artist

, saxophonist Mateusz Pospieszalski

Find albums by this artist

, guitarist Janusz Yanina Iwanski

Find albums by this artist

and bassist Marcin Pospieszalski

Find albums by this artist

. The booklet accompanying this Box Set lists twenty three musicians, who cooperated with the ensemble for various periods of time over the years. The music of Tie Break was a completely unique and immediately recognizable amalgam of Rock, Funk, Jazz, Avant-Garde and World Music influences, which was light-years ahead of its time and kept developing constantly during the time of its existence.

In parallel to their activities with Tie Break, the ensemble members also took part in other revolutionary enterprises on the local scene, like the legendary Free Cooperation

Find albums by this artist

ensemble or the Young Power

Find albums by this artist

ensemble, and appeared under different monikers playing more Rock oriented material, such as the Svora

Find albums by this artist

group with vocalist Stanislaw Sojka

Find albums by this artist

or the WooBooDoo

Find albums by this artist

group. And yet in spite of their obvious talents and brilliant music-making the musicians of Tie Break and the ensemble itself were left to vegetate on the very outskirts of the local scene, with obvious animosity and dislike from almost everybody connected to the music scene: media, record labels, press and even fellow Jazz musicians, especially those mainstream veterans who felt threatened by their innovative and uncompromising approach to music.

Tie Break had to wait for over ten years to record their debut album, the eponymous live album recorded in 1988 and released a year later, and recorded only four proper albums altogether during their career. Although their music was mostly instrumental, they used sometimes lyrics in an imaginary gibberish language. Their fourth and last album was an outstanding Jazz & Poetry project, which featured the great vocalist of Greek origin, Jorgos Skolias

Find albums by this artist

, singing poems written by the priest / poet Jan Twardowski

Find albums by this artist

.

Listening to the music of Tie Break brings on in retrospect the obvious influences that shaped the ensemble´s creations: first and foremost the improvisational freedom of John Coltrane

Find albums by this artist

, which seems to be the most significant ingredient linking the ensemble members, but there are also obvious shades of the late Miles Davis

Find albums by this artist

bands with their heavy Funk, as well as contemplative Indian music, tribal chants and other folkloristic elements. And of course above all there is the omnipresent spice of craziness, madness, artistic folly and zaniness, which turn the music from being just great into being divine. Some music critics credit Tie Break for being precursors of Yass, but personally I don´t support this line of thought. Yass was motivated mainly by protest and revolt against old ways (of Jazz), whereas Tie Break were simply inventing new Jazz in a most positive way they could think off, in complete disregard of commercialism, opportunism and fads of fashion, as appropriate for true anarchists, and as most anarchist they never achieved fame and fortune, but they managed to expand the borders of our culture more than most others, for which they deserve our eternal gratitude.

This Box Set includes remastered versions of the four Tie Break albums and three additional CDs with archive and radio recordings by Tie Break, Svora and WooBooDoo. Beautifully packaged and accompanied by a gorgeous booklet with original artwork and in-depth interviews with Tie Break members, this is obviously a labor of love and finally a much deserved retrospective of one of Poland´s most meaningful musical contributors. This is an absolute must to any serious Polish Jazz or Polish Culture connoisseur.
---