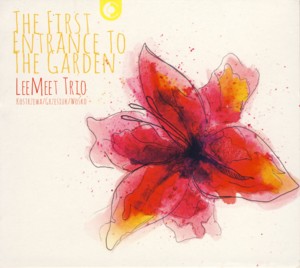 LEEMEET TRIO ~ THE FIRST ENTRANCE TO THE GARDEN
RECART 0013 (Barcode: 5908285287121) ~ POLAND ~ Jazz
Recorded: 2013
Released: 2014
---
This is the debut album by the Polish Jazz piano trio, called LeeMeet Trio

Find albums by this artist

, led by young pianist / composer Liliana Kostrzewa

Find albums by this artist

, with bassist Pawel Grzesiuk

Find albums by this artist

and drummer Radek Wosko

Find albums by this artist

. The album consists of eight tracks, five of which are originals by Kostrzewa, one is a standard, one a folk tune and the remaining one is an arrangement of a Chick Corea

Find albums by this artist

tune.

The music is a pretty straight-forward mainstream effort, melodic and well organized, and holding no surprises or unexpected twists. The bassist plays electric bass, which sets the entire sound of the trio astray from the classic piano trio sound. The original compositions are nice, but somewhat simplistic, and hesitant, but considering this is a debut effort at least Kostrzewa plays her own material rather than playing standards.

Technically the performances suffer from minor imperfections, like a poor balance between the instruments, with the piano being often dominated by the rhythm section and synch problems between the players. Kostrzewa has a very delicate touch and her playing the piano requires a much softer and compassionate rhythmic support. Her technical repertoire is also still underdeveloped, but she does show a lot of potential and surely will get better in time.

Overall not a bed debut, which hopefully is just a first step of a long and successful career for everybody involved.
---