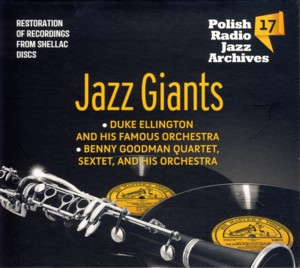 DUKE ELLINGTON / BENNY GOODMAN ~ POLISH RADIO JAZZ ARCHIVES VOL.17
POLSKIE RADIO 1667 (Barcode: 5907812246679) ~ USA ~ Jazz
Recorded: 1934
- 1949
Released: 2014
---
This is the seventeenth installment in the new series of releases initiated by the Polish Radio, which presents archive Jazz recordings. Radio recordings are always a fabulous source of remarkable material, and as far as Polish Jazz history is concerned, the Polish Radio, which was a state monopoly for 45 years, recorded over time a plethora of invaluable material, which apart from the albums released by the Polskie Nagrania record company (also a state monopoly), is the only available additional source of Polish Jazz recordings. For many years Polish Radio recorded concerts presented during Poland´s most important Jazz venues, including the annual Jazz Jamboree Festival and many other festivals as well.

This album presents music recorded by the Duke Ellington

Find albums by this artist

Orchestra and several different ensembles and orchestra led by Benny Goodman

Find albums by this artist

, recorded in the 1930s and 1940s and released on various labels (HMV

Find albums on this label

, Columbia

Find albums on this label

, Capitol

Find albums on this label

and RCA

Find albums on this label

) on 78 RPM shellac discs, which are part of the Polish Radio archives. The music was remastered from these original discs by Anna Rutkowska

Find albums by this artist

.

I must admit that I find this release quite surprising and consider its place in this series as purely accidental, as none of these recordings present music recorded in Poland by the Polish Radio nor does it feature any Polish Jazz musicians, and as such defies the purpose of the so far excellent effort to make this series special. The fact that these shellacs are part of the Polish Radio archive is definitely not a good enough reason for being included in this series. And additionally of course all this material is already available in the US and in Europe, after being remastered by the labels which released this music originally, in my higher quality, often in lavish Box Sets with extensive historical notes, etc. In short this effort is nothing short of bizarre and a sad waste of resources, especially in view of the fact that many other superb recordings in the Polish Radio vaults are still waiting to be released.

One can only hope that future releases of this series will return to the already established pattern, which served its purpose splendidly.
---