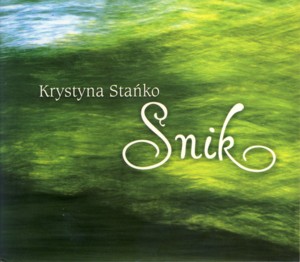 KRYSTYNA STANKO ~ SNIK
NOT ON LABEL 001 ~ POLAND ~ Jazz-World Fusion
Recorded: 2014
Released: 2014
---
This is the seventh album by Polish vocalist / composer / lyricist Krystyna Stanko

Find albums by this artist

, marking a new direction in her career with an ambitious exploration of her Kashubian roots combined with her already established Jazz accomplishments. The Kashubians are an ethnic minority living in the North of Poland (Pomerania), which uses a regional language formally recognized in Poland as an official language, being the only one of many other languages / dialects to be awarded such status. On this album Stanko is accompanied by a wonderful trio comprising of her regular cohorts: vibraphonist / composer Dominik Bukowski

Find albums by this artist

, legendary bassist / composer Piotr Lemanczyk

Find albums by this artist

and drummer Przemyslaw Jarosz

Find albums by this artist

. In addition several guest musicians are featured, including trumpeter Marcin Gawdzis

Find albums by this artist

. The album has thirteen tracks, four of which are parts of an improvised suite based on a legend written by Aleksander Majkowski

Find albums by this artist

, a leading Kashubian literary figure before WWII. These four tracks are split throughout the first half of the album and are co-composed by the core quartet members. Of the remaining tracks three are traditional songs arranged by Stanko, another three are composed by Lemanczyk, two by Stanko and one by Bukowski. Stanko wrote the lyrics to all the songs composed by her and also to those composed by Lemanczyk and Bukowski.

It becomes immediately apparent from the very start of this album that Stanko made a conscious decision to embark upon a new voyage, quite different form the Jazz & Poetry genre, that dominated her marvelous album "Kropla Slowa

Find albums with this title

" released a couple of years earlier. Although some of the songs present here, especially those composed by Lemanczyk, are somewhat similar in their lyricism and melodic qualities to the songs from the earlier album, the majority of the material and more importantly the overall feel and atmosphere are dramatically different, with the utilization of strong ethnic elements, both musical and verbal. It is quite obvious that Stanko wishes to present a tribute to her roots and expose the listeners to the mysticism and beauty of the Kashubian culture. The four parts suite also exposes her more improvisational nature, with so far had only limited exposure in her work, but which turns out to be quite fascinating.

Stanko´s vocal performances are, as usual, wonderful throughout the album, exposing a wide rage of her sensual voice, from whisper and caress to energetic vocalese. She is in full bloom as a vocalist and has very few competitors on the Polish scene as of now. The instrumentalists are also superb from start to finish with Lemanczyk being simply sensational in every capacity, both as time keeper, melody supporter and creator of beautiful notes, all right on the spot. Bukowski uses his electronic instrument, the xylosynth, which enables him to produce a great variety of sounds often similar to those produced by a keyboard, but with a different attack, which add a lot of diverse sound colors to the proceedings. Jarosz turns out to be a sensitive and supportive drummer, who is always there, when needed.

Sadly I must conclude my assessment of this wonderful album on a sad note; it seems that this one will not be received as warmly and enthusiastically as its predecessor, simply for the reason that it crossed the invisible line between sophisticated and elegant entertainment and Art. The listeners might, unfortunately, find parts of this album to be too strange and less accessible, as will probably some learned critics. All I can say at this point is: well done girl, kudos, ignore those ignoramuses and just do your own thing. And of course a big thank you!
---