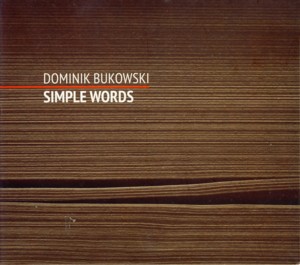 DOMINIK BUKOWSKI ~ SIMPLE WORDS
SOLITON 354 (Barcode: 5901571093543) ~ POLAND ~ Jazz
Recorded: 2013
Released: 2014
---
This is the fourth album as a leader by Polish vibraphonist / composer Dominik Bukowski

Find albums by this artist

, one of the most prolific and sought after musicians in his country, with an impressive record both as a leader and a sideman and certainly a great master of the neglected vibraphone. The album presents ten original compositions, all by Bukowski, performed by a quartet which also includes the Indonesian pianist Sri Hanuraga

Find albums by this artist

, legendary bassist Piotr Lemanczyk

Find albums by this artist

and drummer Przemyslaw Jarosz

Find albums by this artist

.

Bukowski consistently produces excellent music showcasing both his talents as an instrumentalist and his abilities as a composer of witty, intelligent and beautifully melodic tunes, and this album is no different in any respect. The music flows seemingly effortlessly from the opening chords till the last note, full of lyrical statements, changing tempi and featuring many breathtaking solo spots. The decision to use the piano, which is a novelty as far as Bukowski´s groups are concerned, introduces a much broader harmonic spectrum and a more contemplative mood than his earlier albums, which featured reeds or brass. Of course vibes and piano have to be carefully balanced not to crash with each other, but this quartet manages to overcome this obstacle immaculately.

The individual performances are, as expected, flawless and highly professional. Bukowski´s vibes are always right on, preserving the bells of heaven quality, which he manages to maintain for many years. The young and energetic pianist has an excellent technique and does a perfect job both accompanying the vibraphone parts, which is by far nor easy, and shines brightly on his own parts. Lemanczyk is, as always, simply divine, with his strong and precise virtuoso bass lines carrying the music on a magic carpet. Jarosz is always a solid player, keeping time and managing not to become too obtrusive in the delicate balance between the other members of the quartet.

Overall this is another addition to Bukowski´s already sizeable and meaningful legacy, which just got expanded by another important jewel. It´s good to see that he manages to change and develop without loosing his basic qualities but not resting comfortably in one niche, which vibraphone players unfortunately often do. This is perhaps not revolutionary or highly innovative music, but it is perfect in what it does and should be treated as such. Hopefully we won´t have to wait another four years or more for the next project and album. As usual, respect Maestro!
---