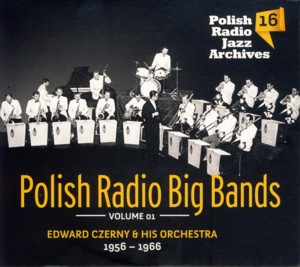 EDWARD CZERNY ORCHESTRA ~ POLISH RADIO JAZZ ARCHIVES VOL.16
POLSKIE RADIO 1666 (Barcode: 5907812246662) ~ POLAND ~ Jazz
Recorded: 1956
- 1966
Released: 2014
---
This is the sixteenth installment in the new series of releases initiated by the Polish Radio, which presents archive Jazz recordings. Radio recordings are always a fabulous source of remarkable material, and as far as Polish Jazz history is concerned, the Polish Radio, which was a state monopoly for 45 years, recorded over time a plethora of invaluable material, which apart from the albums released by the Polskie Nagrania record company (also a state monopoly), is the only available additional source of Polish Jazz recordings. For many years Polish Radio recorded concerts presented during Poland´s most important Jazz venues, including the annual Jazz Jamboree Festival and many other festivals as well.

This album is a first in a series presenting music recorded by the Polish Radio Big Bands and presents the orchestra led by composer / arranger / bandleader Edward Czerny

Find albums by this artist

, one of the most active musical figures in Poland´s post-WWII history. Czerny, who was born in Zabrze, one of the Silesian industrial towns, received classical musical education in Berlin before the war. He managed to avoid being grafted into the German army due to a disability and spent the war in his hometown. Immediately after the war he became active forming and leading orchestras, first in Silesia and later on in Warsaw, where he moved in 1955. Among his various activities he was the conductor and artistic director of the Polish Radio Orchestra / Big Band for many years and recorded thousands of compositions for the radio, some of them his own. He retired from conducting by the mid 1970s and spent the rest of his life composing. He moved to Germany in 1981, where he died in 2003.

Although Czerny was not a Jazz personality as such, he had a beautiful sense of Swing and a deep sympathy towards Jazz compositions, which he demonstrated in his wonderful arrangements of Jazz standards for his orchestra. Above all he was a superb orchestrator, which is evident in all his work. This album presents nineteen recordings made between 1956 and 1966 including mostly arrangements of Jazz / Swing standards by legendary composers like Glenn Miller

Find albums by this artist

, Stan Kenton

Find albums by this artist

, Quincy Jones

Find albums by this artist

, Duke Ellington

Find albums by this artist

and others. There are also four original compositions by Czerny. Interestingly two compositions by the Czech composer Karel Krautgartner

Find albums by this artist

, who was another great bandleader / conductor active behind the Iron Curtain, are also included.

Fans of vintage Jazz sound and swinging, danceable tunes should have a field day with this material, but it´s worth remembering that Czerny and his music influenced an entire generation of musicians, who were about to become the first Polish post-WWII wave of modern Jazz musicians, creating one of the most fascinating European Jazz scenes.

The beautifully restored sound quality is excellent and the warm ambience of the analog recording is a true joy. As usual with this series, which is very reasonably priced, I miss the presence of "in depth" liner notes / booklet, which should convey the circumstances at which this music was recorded and its importance to the development of Jazz in Poland. Nevertheless this is an absolutely essential piece of Jazz history which every Jazz fan will surely consider an absolute must.
---