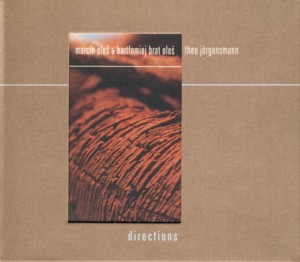 OLES BROTHERS / THEO JORGENSMANN ~ DIRECTIONS
FENOMMEDIA 002 (Barcode: 5907604327029) ~ POLAND ~ Jazz
Recorded: 2004
Released: 2005
---
This is the second album by Polish Jazz musicians / composers, brothers Marcin Oles

Find albums by this artist

(bass) and Bartlomiej Oles

Find albums by this artist

(drums) collectively know as Oles Brothers

Find albums by this artist

, with the German clarinetist / composer Theo Jorgensmann

Find albums by this artist

. Recorded just one year after their debut recording "Miniatures

Find albums with this title

", it signifies the incredible rapport these musicians are able to create together. The album presents nine original pieces, six of which were composed by Bartlomiej Oles, one by Marcin Oles and two by Theo Jorgensmann.

The music is a logical and linear continuation of the ideas that were first developed on the preceding album, deepening the trio´s coherence and spiritual unity. There is no doubt that this music is significantly more "unchained", with a lot of breathing space and bolder experimentation, expanding the boundaries of the trio´s telepathic creative process. But miraculously the new degree of freedom does not impair the warmth, intimacy and melodic contents this music so wonderfully amalgamates. It is a superb example of the "less is more" approach, where each single note counts and subdued energies penetrate deeper than volume.

Of course there are plenty of energetic and spirited moments, when the music reaches ecstatic levels, but even then everything happens in perfect harmony and intrinsic tidiness, which often is completely lost in the heat of Improvised Music created by others. The idea to play relatively short pieces with changing motifs, as opposed to expanded improvised passages lasting for long periods of time, works excellently herein. These great musicians do not need to prove anything and obviously play the music enjoying the aesthetics of creation a new expression of their inner selves, rather than showing off their talents.

This is definitely one of my favorite Polish Jazz albums, which is after all hardly surprising, as my work as a producer with the Israeli clarinetist Harold Rubin is in many respects quite similar. The clarinet produces a heartwarming sound, which is simply irresistible and in the hands of a Master becomes an extension of the human voice. Combined with an intelligent and extremely musical rhythm section, like in this case, the result turns into some of the most moving and poignant music one can experience.

This is a classic album in every respect, which should be included on the short "must hear" list anywhere on this planet where people still listen to meaningful music. The depth of the experience this music generates is of course very personal, but I can hardly imagine a music connoisseur left untouched by it. Respect!
---