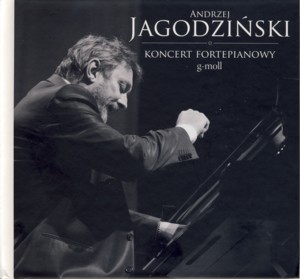 ANDRZEJ JAGODZINSKI ~ KONCERT FORTEPIANOWY G-MOLL
NOT ON LABEL (Barcode: 9788393067442) ~ POLAND ~ Jazz-Classical Fusion
Recorded: 2013
Released: 2013
---
Polish Jazz pianist / composer Andrzej Jagodzinski

Find albums by this artist

is one of the veterans of the local scene and a prominent figure among his peers. He was one of the first musicians to record Jazz versions of the music by the great Polish composer Frederic Chopin

Find albums by this artist

, and his trio recording of Chopin´s works from the early 1990s remains a classic of this variety and started a trend, which continues to this very day and produced dozens of similar projects over time, some of which are completely redundant.

This album takes Jagodzinski to a whole new level of the Jazz-Classical Fusion trend, with a piano concerto he composed for a Jazz piano trio and orchestra, presented here. The piano trio consists of Jagodzinski and two other Polish Jazz veterans: bassist Adam Cegielski

Find albums by this artist

and legendary drummer Czeslaw Bartkowski

Find albums by this artist

. The orchestral parts are performed by the National Philharmonic Orchestra directed by Wojciech Zielinski

Find albums by this artist

.

The three-part concerto consists of melodic / romantic atmospheric music, which is heard mostly in the background, supporting the piano trio. The themes are all quite well-rounded and easy on the ear, easily accessible to the average listener and not really challenging his intellect. The trio performance is very good, as expected from such distinguished musicians, but also lacks a certain degree of excitement, which is expected in Jazz. The entire project seems to be making an effort of not stepping on anybody´s toes.

Overall this is a very "slick" piece of music, which undoubtfully will find many eager listeners, who like romantic, lyrical orchestral music. Enthusiasts of more ambitious Jazz projects might find this disappointing. The album lasts only for about 36 minutes, which really puts it in the EP category, regardless of the elegant digibook packaging.
---